1962 – Born in Anhui, China
1981 – Graduated from art school in An Hui Province, China
1986 – Graduated from the Central Academy of Fine Arts, China
Living in the fast-pace, digital information filled world, we hardly have the time to closely observe the world we live in today and to think over the life-turning opportunities that might have passed us by. As public media becomes our main information resource, we start to loose our ability to distinguish what enfolds in front of our eyes. Chinese artist Hua Qing, whose works contains profound connotation responding to the contemporary life, incorporates philosophies and theories in his paintings. He strives to inspire self re-examination and allows the vigorous brush strokes to provoke viewers' emotion.Over the years, Hua Qing had resided in many different places with diverse culture, such as Vienna, Yugoslavia, Slovakia, Taiwan, and China.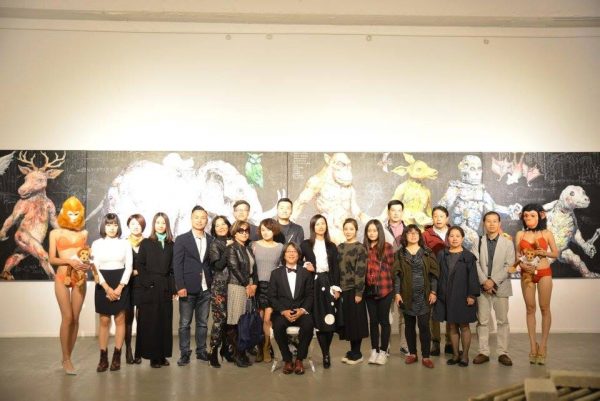 The artist has experienced the vast difference between Western and Eastern culture. Moreover, witnessing the civil war that broke out in the Eastern Europe shaped the content of his creativeworks. Through painting, he investigates the purpose and product of civilization.  Hua Qing was first known for the dramatically painted red apes and the juxtaposition of apes and scientific and mathematic symbols. The artist's works are inspired by French philosopher's famous statement: Cogito ergo sum(I think, therefore I am.) Through his works, he investigates the relationship between human being and other living species, and at the same time, he re- examines the meaning of human civilization. As he continues to explore different subject matters, Hua Qing has developed his unique visual language. In his recent works, he has painted animals other than apes and Stonehenge monument, and he has placed these subject matters in front of symbols of philosophical, literal, mathematical, and artistic development hoping to inspire reassessment on the purpose of our establishment and future progress.
Solo Exhibition
2013 "Twelve human face" – 2013 Hua Qing Exhibition, Asia Art Center, Taipei
2012 "person-thing" – 2012 Chinese celebrate New Works Exhibition, Asia Art Center, Beijing, China
2011 "Numerology" – Hua Qing Exhibition, Asia Art Center, Beijing, China
2010 "I think, therefore I am" – 2010 Chinese celebrate New Works, Asia Art Center, Taipei
2010 "thinking" – Hua Qing Solo Exhibition, Megumi Ogita Gallery, Japan
2009 "magic thinking – Hua Qing 2009", Asia Art Center, Beijing, China
2009 "Hua Qing Solo Exhibition", Opera Gallery, Hong Kong, China
2008 "Man of the Upanishads" – Huaqing 2008, Asia Art Center, Beijing, China
2007 Art Space Life Sciences, Academia Sinica, Taipei
2007 "Hua Qing – who fable", Osage Gallery, Singapore
2004 Crown Art Gallery, Hsinchu
1999 North Village Art Center, Taipei
1991 Grafck Kolitiv Gallery, Belgrade, Yugoslavia
1991 Studio Galerije Forum Gallery, Zagreb, Croatia
1991 KC Gallery, Ljubljana, Slovenia
1989 Ljubljana Bank, Slovenia
1987 Beijing Artists Association Gallery, Beijing Concert Hall, Beijing, China
Group Exhibition
2013 55th Venice Biennale exhibition parallel large independent projects in China, "Culture spirit Generate" Mora Palace, Venice, Italy
2013 Art Beijing Fair, Asia Art Center, Beijing
2012 Art Beijing Fair, Asia Art Center, Beijing
2012 "jet lag" – 2012 German cultural exhibition, Hannover, Germany
2011 Art Beijing Fair, Asia Art Center, Beijing
Expo 2011 Shanghai Contemporary Asian Art Center, Shanghai
2010 Art Beijing Fair, Asia Art Center, Beijing
2009 Hong Kong Art Fair, Asia Art Center, Hong Kong, China
2008 Taipei Art Fair, Asia Art Center, Taipei
2008 Singapore Art Fair, Asia Art Center, Singapore
2008 Bridge Art Fair Expo, Asia Art Center, New York, United States
2008 Blue Dot Asia Expo, Seoul Arts Center, Seoul, Korea
2008 "China Now Now 2" Armstrong Portland Art Fair 2008, Canvas International Art, Maitland Armstrong, Netherlands
2008 "Crossroads", Opera Gallery, Singapore
2007 "Heaven – China frontier Contemporary Art Exhibition", Asia Art Center, Beijing, China
2007 "things instead of" Asian Art Center / Doosan Art Center, Seoul, Korea
2007 Art Beijing Fair, Asia Art Center, Beijing, China
2007 China International Gallery Exposition, Asia Art Center, Beijing, China
2007 "History and Beyond", Zhuo Pu Arts Center, Kaohsiung
2007 "ferocious animal", ink Gallery, Beijing, China
2007 "Made in China", Opera Gallery, Hong Kong, China
2007 "mobile society – Contemporary Art Exhibition", Huan Tie Times Art Museum, Beijing, China
2006 "Art Beijing" Fair, Asia Art Center, Beijing, China
2006 "Mobile socialism", 798 Space, Beijing, China
2006 "Red Star Red Star Red Star" Nine Show, Red Star Gallery, Beijing, China
2006 "I want to move," Zhu Qizhan Art Museum, Shanghai, China
2006 "exercise", Aasa Museum of Art, Hong Kong, China
1998 International World Art Fair, Beijing, China
International Print Biennale 1993 Ljubljana, Slovenia
1989 SOAS Gallery, Vienna, Austria
1999 International Triennale, Osaka, Japan
Awards
Excellence Award 1997 International Art Fair, Beijing, China
1991 Rogaska Salatina International Art Award of Excellence, Slovenia