Shi  Wei  was  born  in  1965  in  Hubei  Province,  China.  He  graduated  from  the  Hubei  Academy  of  Fine  Arts   with  a  Masters  degree  in  art  and  now  lives  and  works  in  Beijing,  teaching  at  Beijing  City  University.  He  has   held  numerous  exhibitions  in  China  as  well  as  in  Korea,  Singapore  and  Hong  Kong  just  to  name  a  few.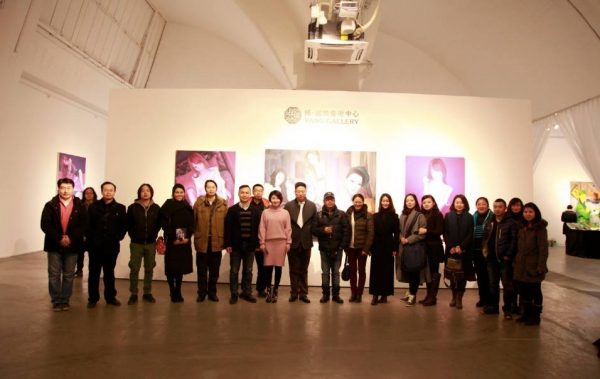 Shi  Wei's  subject  matter  revolves  around  the  sensuality  of  the  female  form,  and  the  image  of  the   "beautiful  skinny  woman"  has  now  become  his  trademark.  Each  woman  has  her  own  characteristics  and   the  artist  is  careful  to  give  them  each  their  own  identity.  Some  gaze  out  of  the  painting  with  nonchalance,   a  vacant  expression  of  indifference,  whereas  others  are  overtly  seductive  with  engaging  "come  hither"   looks.  In  his  oil  paintings,  women  are  depicted  skinny  and  lean  in  erotic  poses,  which  places  the  meaning   of  beauty  under  scrutiny.  Are  these  women  beautiful  and  happy?  Or  are  they  suffering  for  the  price  of vanity?
Although  each  face  is  different,  the  message  conveyed  is  the  same;  these  women  are  all  products  of   China's  new  open  door  policy,  flourishing  under  its  fast  moving  economic  development.  Born  in  the  1980s   and  1990s  they  seem,  however,  detached  from  reality,  amidst  in  a  meaningless  world  of  consumerism.  Their  bodies  highlight  their  yearning  desire  to  be  fashionable  and  stylish,  and  yet  a  mood  of   emptiness  permeates  form  the  works.  This  is  underscored  by  the  bland  backgrounds  in  the  paintings;   anonymous  hotel  rooms  and  monochrome  draperies.  Through  this  collection  of  paintings  Shi  Wei   masterfully  depicts  the  "here  and  now"  of  life  in  the  economic-­‐boom  towns  of  China  and  what  it  means  for   the  young  generation  of  women  growing  up  in  this  environment.