1962 Born in Daqing, Heilongjiang province, China.
Immediately humorous and sympathetic, Yue Minjun's paintings offer a light-hearted approach to philosophical enquiry and contemplation of existence. Drawing connotations to the disparate images of the Laughing Buddha and the inane gap toothed grin of Alfred E. Newman, Yue's self-portraits have been describe by theorist Li Xianting as "a self-ironic response to the spiritual vacuum and folly of modern-day China."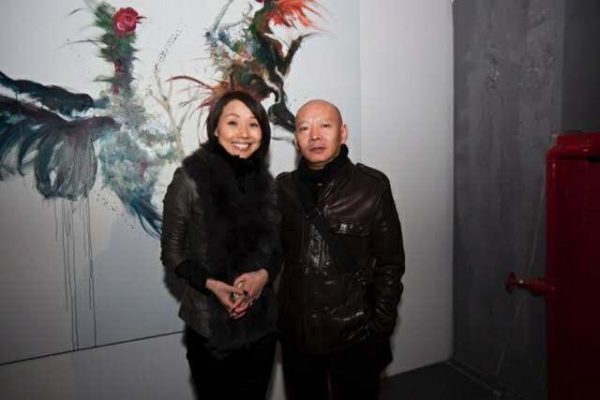 Using both the exaggerated expressiveness of cartooning and the stylistic rendering of graphic illustration, Yue depicts his cloned doppelgangers as contorted and grotesque, all scalded pink skin and maniacal toothy cackles. The acidic tones and commercialized vacuity of his works are used to underscore the insincerity of his figures' mirth. As both antagonists and anti-heroes, Yue's hysterical cohorts equally bully the viewer and stand as subjects of ridicule. Using laughter as a denotation of violence and vulnerability, Yue's paintings balance a zeitgeist of modern day anxiety with an Eastern philosophical ethos, positing the response to the true nature of reality as an endless cynical guffaw. Your first reaction upon meeting Yue Minjun might be, yes, it is indeed he! The face with the enigmatic, jaw-breaking grin, perhaps the most recognizable image in contemporary Chinese painting, is a self-portrait.
| | |
| --- | --- |
| | |
| 1983 | Graduated from the Oil Painting Department of Hebei Normal University |
| 1996 | Designed Redstar Watch for The Artist Collection of Swatch Watches, 1996 Spring Collection |
Selected Solo Exhibitions
2006
"The Reproduction of Idols: Yue Minjun, 2004-2006," He Xiang Ning Art Museum, Shenzhen, China
"Looking for Terrorists," Beijing Commune, Beijing, China
2005
"Post Auratic Self Portrayal of Yue Min Jun," CP Foundation, Jakarta, Indonesia
2004
"Yue Min Jun: Sculptures & Paintings," Schoeni Art Gallery, Hong Kong
2003
"Yue Min Jun: Beijing Ironicals," Prüss & Ochs Gallery, Berlin, Germany
"Yue Min Jun," Meile Gallery, Switzerland
2002
"Soaking In Silly Laughter: One of Art Singapore 2002," Soobin Art Gallery, Singapore
"Yue Min Jun: Handling," One World Art Center, Beijing, China
2000
"Red Ocean," Chinese Contemporary London, England
Selected Group Exhibitions
2007
"Red Hot! Asian Art from the Chaney Family Collection", Houston Museum of Fine Arts, Houston, USA
"The Year of the Golden Pig – Contemporary Chinese Art from the Sigg Collection", Lewis Glucksman Gallery, Cork, UK
2006
Xianfeng! Chinese avant-garde, Museum Beelden aan Zee, Scheveningen, Netherlands
"China Now," Sammlung Essl Privatstiftung, Klosterneuburg, Austria
2005
"Beautiful Cynicism," Arario Beijing, China
"Plato and his seven spirits," BJ Century Overseas Chinese City, Shenzhen
"Open 2005: International Exhibition of Sculptures and Installations," Lido, Venice, Italy
"Dress Up in Art: Theme Exhibition on Traditional Chinese Operas," Today Art Museum, Beijing, China
"No U-Turn: China Contemporary Art," TNUR Guando Museum of Art, Taiwan, China
2004
"Contemporary Lithography Group Exhibition", L.A. Gallery Beijing, Beijing
"Dreaming of the Dragon's Nation: Contemporary Art Exhibition from China," Irish Museum of Modern Art, Dublin, Ireland
"Shanghai 5 Biennale: Techniques of the visible", Shanghai Biennale – Shanghai Art Museum, Shanghai
"Guangju Biennale 2004: A Grain of Dust, A Drop of Water," Korea
2003
"From China with Art," Indonesia National Gallery, Jakarta, Indonesia
"Der Rest Der Welt", Alexander Ochs Galleries, Berlin, Germany
2002
"Spring Group Exhibition", Art Beatus, Vancouver, Vancouver, British Columbia
"Golden Harvest: Chinese Contemporary Exhibition," Croatia National Art Museum, Croatia
"Chinese Contemporary Art," Rekjavik Art Museum, Iceland
2001
"Ornament and Abstraction," Foundation Beyeler, Switzerland
"C'est Moi, C'est Nous", Galerie de France, Paris
2000
"The Dutch Gasunie", Groningen, Holland
1999
"Transparence, opacité? 14 Chinese Contemporary Artists," France, Italy
"d'APERTutto", 48th Venice Biennale, Venice
1998
"5000 + 10", Chinese Contemporary London, England
1995
"Images of Women II", Schoeni Art Gallery, Hong Kong
"Visions of China: Contemporary Chinese Painting by Chinese Masters", Pacific City Club, Bangkok, Thailand
1992
"Yuanmingyuan Artists Exhibition", Yuanmingyuan, Beijing