The Luo brothers consists of Luo Wei Dong (1963), Luo Wei Bing (1964) and Luo Wei Guo (1972) are born in Nanning, southern province of Guangxi, China. They graduated from the Guangxi Academy of Art, the Guangzhou Academy of Fine Art and the Central Academy of Applied Arts respectively.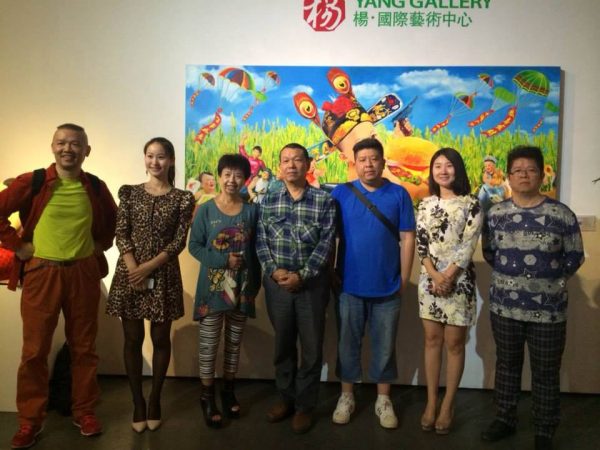 Famous for creating iconic works from the oriental side of nature, the Luo Brothers' works are in effect a conglomeration of what makes up the modern Chinese society today.In their series 'Welcome Welcome', a Luo Brothers bouncing baby has held aloft most of the world's foreign consumer products. When one thinks about it, the same mix can be found in other cultures around the world. However, what's so different and unique about the Chinese experience is the way it had happened so quickly. In the span of thirty years since the death of Chairman Mao, China had gone from a uniformly colorless society to one that makes our eyes and ears ache with the daily assaults of colors, lights and noise…. The Luo Brothers' works are a successful reflection to this explosion of vitality.
The cynic says this is a corruption of tradition, the corruption of things made serious by vile consumerism. They may have a point, there is certainly a lack of spirituality in the sugar and fat enriched cupcake-lands of the Luo Brothers' bouncy babies, but we must not forget that to many this is infinitely preferable compared to the drab and uni-colored 'Red (era)'. These works are fun, their visions very much embrace the 'new' China and they revel in it. Through the Luo Brothers' works, we are shown the exuberant and merry mature of choice in its truest form.
Public Collections:
Denver Art Museum
Fukuoka Art Museum
San Francisco Museum of Modern Art Fondation Cartier pour l'Art Contemporain Guy & Myriam Ullens, the Ullens collection
The Uli Sigg collection
The Kent & Vicki collection
Selected Exhibitions
2007
'Red Hot! Asian Art from the Chaney Family Collection', Houston Museum of Fine Arts, Houston, USA
'The Year of the Golden Pig' – Contemporary Chinese Art from the Sigg Collection, UK
2006
'Under the Radar: Chinese Contemporary Art', Robischon Gallery, Denver, Colorado, USA
'Welcome Home', Sara Meltzer Gallery, New York, USA
2005
'How to Fix Reality, Impakt,' Utrecht, Netherlands
'World Famous Brand', Changing Role Gallery, Napoli, Italy
2004
'Happiness', Art Beatus Exchange Square, Hong Kong
'Arco 2004 International Contemporary Art', Madrid, Spain
'New Works by the Luo Brothers', Courtyard Gallery, Beijing
'Second International Biennial of Video Art', Tel Aviv, Israel
'Video Projections', curated by Sally Berger and Barbara London, Museum of Modern Art, Queens, New York
'25 Hours', Poliesportiu El Raval, Barcelona, Spain
2003
'Korean International Art Fair 2003, Korea
'Arco 2003 International Contemporary Art', Madrid, Spain
2002
'Gimme Shelter', Museo Arte Contemporyneo, Mexico City, Mexico
'14th Annual Onion City Experimental Film and Video Festival,'Chicago, IL (Jury Award)
'CEC International Screening Series' ProArte Institute, St. Petersberg, Russia (travelling exhibition)
'Luo Brothers', Sydney, Australia (solo)
'Art 33 Basel', Switzerland
2001
'Art Chicago 2001', Navy Pier, USA
'New Face of China', Melbourne, Australia
2000
'Sydney Art Biennale', Sydney, Australia
Awards
2006
Fifa World Cup Germany 2006, Art Poster, Luo Brothers (China), 'A Cup for your Toy'