Compass and Missile Together: Qin Feng's Recent Paintings by Britta Erickson
In preparation for writing this catalogue essay, I visited Qin Feng's Beijing studio to talk with him about his new works, and then followed up with a list of questions that addressed issues I hoped to understand better. Over the years I have visited his studios in Beijing and Boston and enjoyed many fascinating discussions with him about art and life. In the past, when writing about Qin Feng's oeuvre I have set a dispassionate scholarly tone. But this time I feel happily compelled to begin with a few personal observations. They have helped me to make sense of the power and complexity of Qin Feng's work.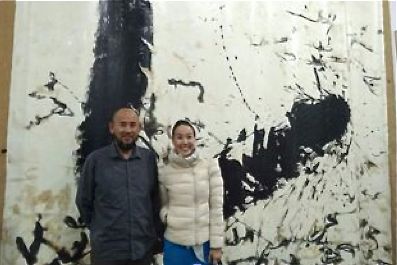 Using an enormous brush to deploy buckets of paint or ink onto canvas or paper laid on the floor requires tremendous strength. Were he not in top physical condition, Qin Feng would be unable to produce brushstrokes humming with such life. The raw power of his brushwork can be almost overwhelming, and at times I struggle with accepting it. In terms of traditional standards of Chinese painting, such an overt display of strength would be considered vulgar, but Qin's paintings are not intended to be viewed from such a point of view. The size, strength, and energy of his paintings all are a reflection of the artist himself. Born in the steppes of Xinjiang in China's far northwest, a place where the horizons stretch to infinity, he radiates a sense of expansiveness himself, as if it would be impossible to contain him, his energy and imagination, within a smaller space than that he now occupies. To express himself satisfactorily, I found Qin Feng had switched between classical Chinese and everyday modern Chinese in a way that must feel quite natural to him, permeated with metaphors and allusions, and rapidly veering toward the abstract. To read his paintings can be a similar experience: beginning as something that supports reasoned analysis, but then arriving at a point where only a wild leap of faith can bring meaning into focus.