The flamingo-pink carpet was awash with feathers, tulle, sequins, gold lamé, and plastic baubles—perfectly fitting for the Metropolitan Museum of Art's high-glamour annual Costume Institute gala, this year dedicated to the theme of camp fashion.
Hosted by Harry Styles, Serena Williams, Amal Clooney, and Anna Wintour—when else do you get a boy band veteran, a grand-slam tennis champion, a human rights lawyer, and Vogue's grand dame in the same room?—the evening was a visual feast for the ages.
The celebrity guests were sent a copy of Susan Sontag's landmark essay "Notes on Camp," which was the basis for the Costume Institute's exhibition, ahead of time. It's unclear how many actually read the text—which loosely defines "camp" as "a love of the unnatural: of artifice and exaggeration"—but, boy, did they deliver.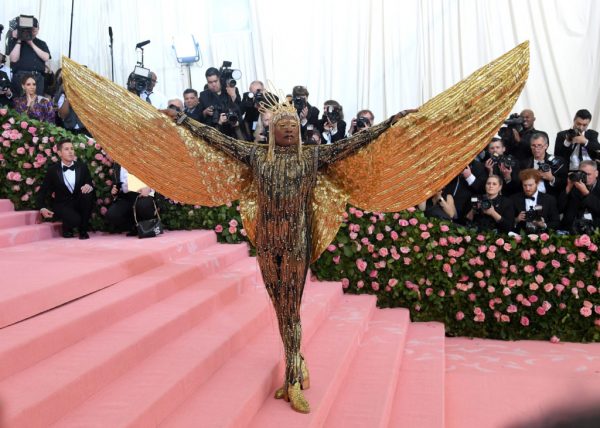 Broadway star Billy Porter, arriving on a golden throne carried by a group of shirtless men, made the biggest entrance of the evening. And his costume of an Egyptian sun god was well suited for a party at the home of the ancient Egyptian Temple of Dendur.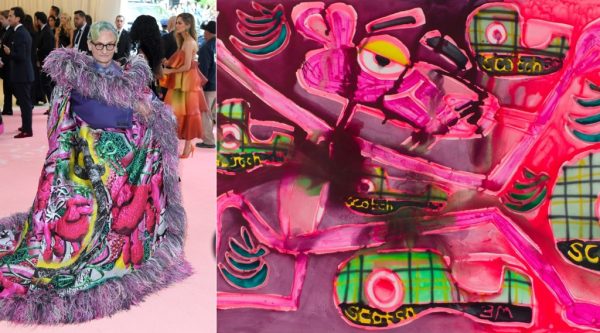 Longtime Vogue editor-at-large Hamish Bowles's cape calls to mind the riotous colors of artist Katherine Bernhardt.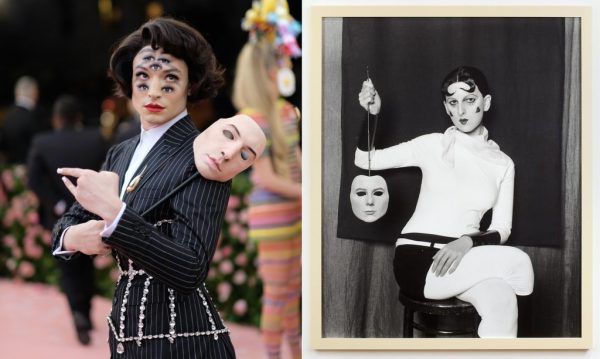 The Instagram account @tabloidarthistory noted that the mask held by Fantastic Beasts actor Ezra Miller was reminiscent of artist  Gillian Wearing's 2012 photograph (which in turn channeled French artist Claude Cahun), Me as Cahun Holding a Mask of My Face.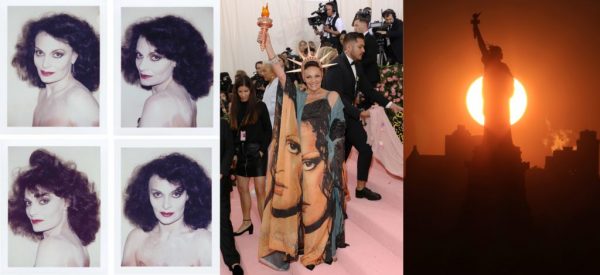 The fashion designer Diane von Furstenberg, a onetime muse to Andy Warhol, dressed up as a statue no less iconic than the Statue of Liberty.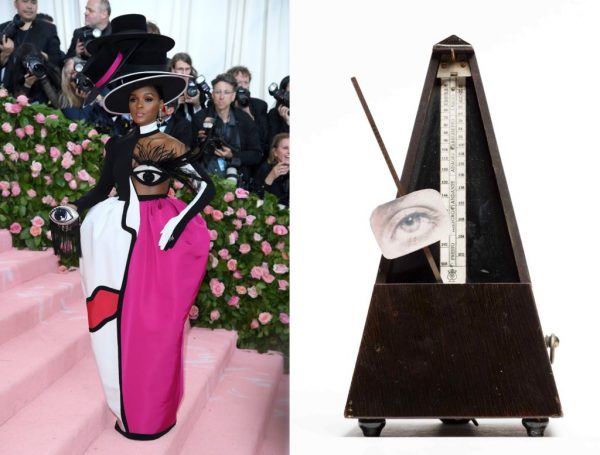 The singer-songwriter Janelle Monae kept time with photographer Man Ray's metronome from his 1923 photograph Object to Be Destroyed.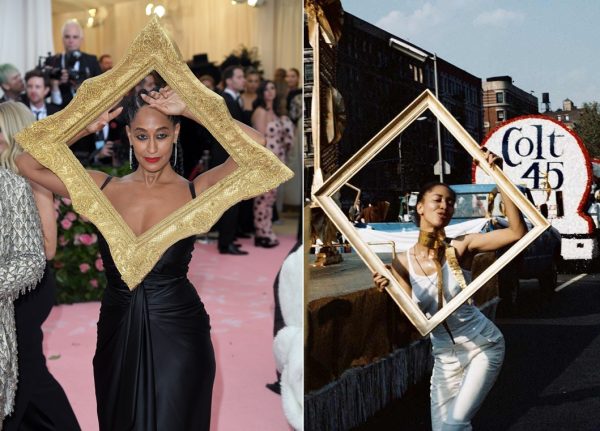 Actress Tracee Ellis Ross's gold picture frame seemed to reference Lorraine O'Grady's 1983 performance Art Is…, in which the artist and critic framed the faces of black and Latino people at that year's African American Day parade.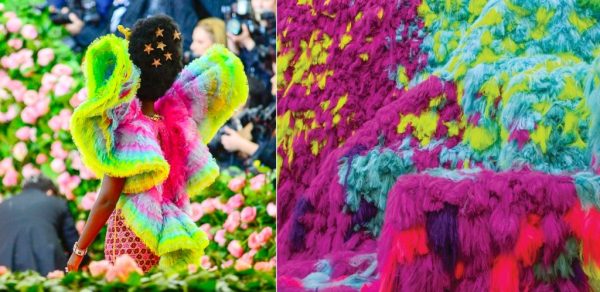 Did actress Lupita Nyong'o "steal" her costume inspiration from the furry installations of Icelandic artist Shoplifter?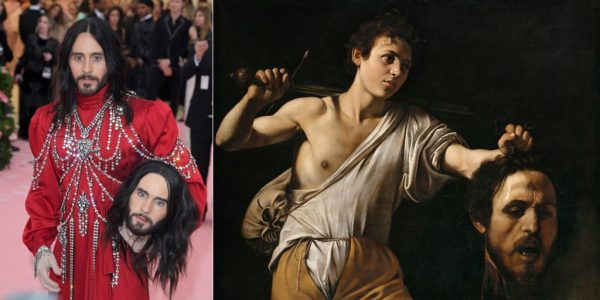 |Actor Jared Leto took a cue from the gruesome beheadings of art history, such as Caravaggio's David With the Head of Goliath.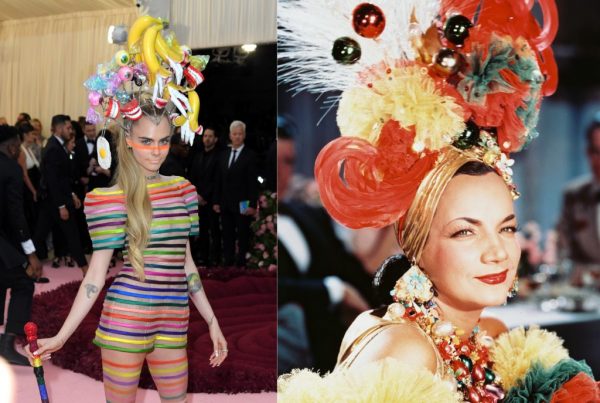 Model Cara Delevingne's fruit-festooned fascinator, which reportedly took 600 hours to make, calls to mind the "Brazilian Bombshell" Carmen Miranda's elaborately artistic hats.

People have been known to get trapped inside Anish Kapoor's art in the past. Is Cardi B the latest victim?


Katy Perry pulls off a "well-done" hamburger in the style of sculptor Claes Oldenburg.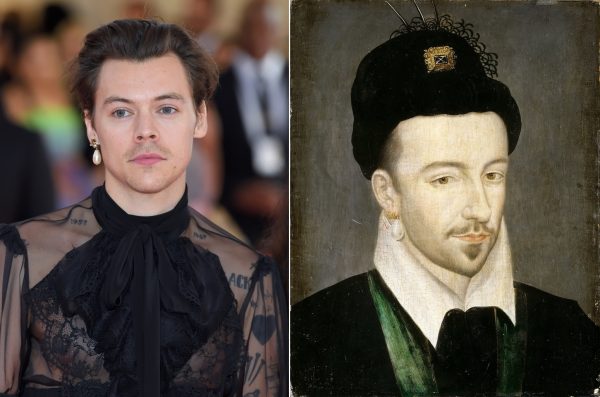 British singer Harry Styles donned a pearl earring, perhaps as a reference to Vermeer—or Jean Decourt, who also painted his portrait of King Henry III of France with a pearl earring.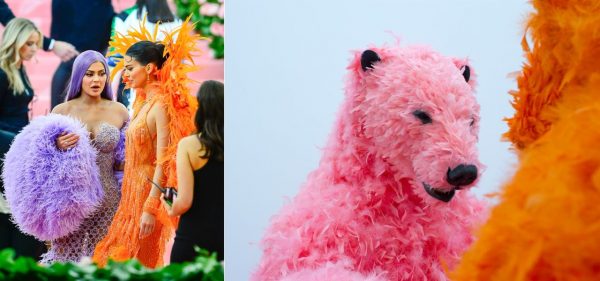 Kendall and Kylie Jenner looked like two of the "beary" feathered friends from artist Paola Pivi. 
*extracted from artnet