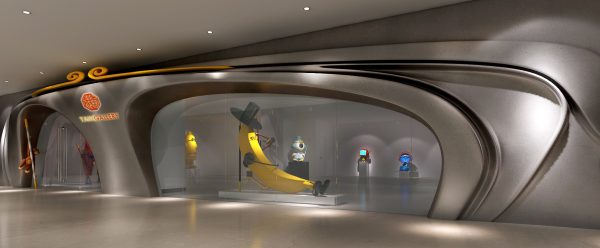 Yang Gallery . Singapore
Wu Kong 悟空
Wang Ninghua Digital Solo Exhibition 2021
 Exhibition Period:
28 May 2021 – 28 June 2021
 Venue: The Shopping Gallery Hilton #01-11, 581 Orchard Road, Yang Gallery Singapore
The digitisation of the art world is occurring at the same time worldwide. We weren't astounded at the digital turnaround arising from the Covid pandemic. The amount of alternatives rising are fascinating, and not few. From schools, to museums, to new platforms, this digital migration is occurring quickly. Art Basel, Cannes Film Festival, European Fine Art Fair (TEFAF) and many more were delayed. We realised that art has migrated somewhere else: Online.
The Getty, for example, has offered many of their exhibitions online, together with audio tours, and it's not the only one. Museums worldwide have jumped on the #MuseumFromHome wagon: Moma, Louvre, and more of others each day are providing online tours, streaming sessions, learning resources, and lots of alternatives to let their collection stay on at the homes of their audience. As a consequences, several of the online art experiences are not live. Digital galleries and online exhibitions are a thing more than ever.
In this era, running a standard(physical) art gallery is not the only way to go. Many Art gallery owners can now offer art pieces in a virtual art gallery setting. Even artists will build and launch their virtual galleries to showcase their work and increase potential sales and expose their works to a greater and different audience group. Upon entering the digital realm, fine art, original art, and virtual art have all become accessible to a wider audience. That automatically makes searching and shopping for artworks less complicated because potential buyers can easily look for art by artist, price range, category, and other available preferences.
The world of art has moved to the digital realm because most consumer purchases, even in the art world, begin with a web search. A virtual gallery or exhibition is often accessible for people who want to soak up some art and enjoy culture whenever they wish. You won't risk getting the exhibition dates wrong or reaching the gallery only to find that it's closed on Sundays or Mondays. Virtual galleries are open 365 days a year, 24 hours a day, ready to take you on a virtual tour of their exhibitions. Whether you are in a half-empty or crowded gallery, visitors are not encouraged to get close to the exhibited artwork. However, a virtual art piece cannot be knocked over or get dirty because it's, well, virtual.
Since many art lovers today, and more in the future, may not have enough time to visit a physical gallery, they prefer looking at art in virtual, online spaces, hoping for a somewhat similar experience. Change is inevitable — the art world is increasingly moving into the virtual universe. The change surely cannot replace the real gallery experience and bring an end to gallery shows, but when art is shown in a virtual gallery, it does offer enhanced opportunities and advantages.
Yang Gallery warmly welcome you to this most exciting blooming digital art world 2021."Wu Kong"悟空- Wang Ninghua Digital Solo exhibition ongoing, feel free to enjoy Yang Gallery virtual exhibition, or welcome to visit us in our physical gallery space in Singapore!
Press here for more info: Yang Gallery | Wu Kong · Digital Art Exhibition 2021