From 6 to 15 January 2023, the 11th edition of Singapore Art Week 2023 (SAW 2023) will present an array of over 130 art events featuring new works and playful interventions that transform spaces across the island – from the city centre to the heartlands.
The ten-day celebration of the visual arts will launch the inaugural ART SG, present the best of Southeast Asia at S.E.A. Focus, as well as host the homecoming presentation of Pulp III: A Short Biography of the Banished Book from the recent La Biennale di Venezia. Don't forget the Singapore Biennale happening in venues all across Singapore, and the vibrant Light to Night in the Civic District.
Look forward to an exciting line-up of art experiences at museums, galleries, independent art spaces and public spaces, and enjoy enriching discussions, experiential programmes, tours and trails available for everyone.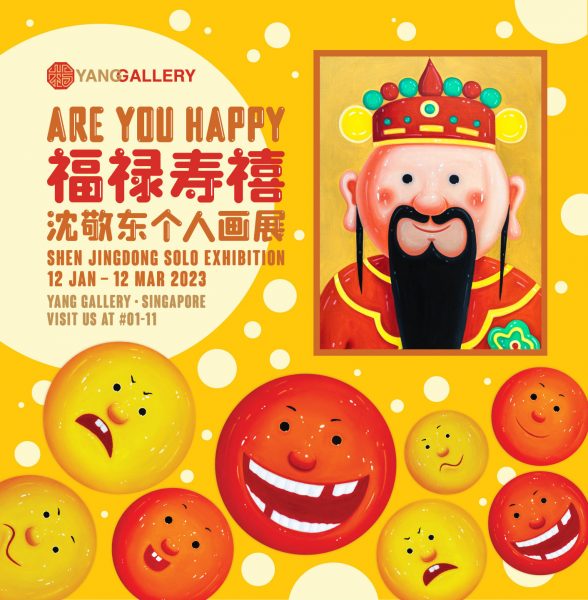 Exhibition Title
ARE YOU HAPPY
福禄寿禧
Artist
Shen Jingdong 沈敬东
Period
12 Jan 2023 – 12 Mar 2023
Venue
Yang Gallery
581 orchard road, #01-11 voco orchard Singapore, 238883
Contact Us
+65 83891888 / info@yanggallery.com.sg
www.yanggallery.com.sg
Foreword
Welcome to Yang Gallery, one of The Leading contemporary Luxury art Gallery in Singapore & Beijng.
Contemporary fine art has become a global phenomenon & the demand is dramatically increasing continuously amid COVID-19 pandemic.  Sheng Jindong 's artwork has proven to be one of the greatest alternative investment through out the current pandemic!
We look forward to welcoming you and to be of service to you on your Art Investment journey progress soon!
—Susanna Yang
Happy New Year! I have been long acquainted with Singapore as I am friends with Yang Gallery for many years. Yang Gallery has witnessed the new development of Chinese contemporary art in the new century, as well as witnessing the progress and development of my works little by little in the past twenty years.
My works convey the true feelings of my life my experiences growing up, social background and the world I live in. I hope my works can give viewers a unique feeling and bring a smile to everyone in this turbulent world. After more than 30 years of hard work, my works have been loved by many people, for which I am truly honored and grateful.
Overcoming the 3 pandemic years, mankind has experienced hardships. I wish for my artwork to ease your pain and bring a smile to your face. "ARE YOU HAPPY" is the theme of this exhibition, through this I desire that the art I poured my soul into brings you as much joy.
Shen Jingdong
December 2022
Yang Gallery | Are You Happy 福禄寿禧 – Shen Jingdong Solo Exhibition 2023 PDF:
https://vocoshoppinggallery.com/wp-content/uploads/2023/01/Yang-Gallery-Are-You-Happy-福禄寿禧-Shen-Jingdong-Solo-Exhibition.pdf