In this article, we look at the top 20 contemporary Chinese artists in 2016 and rank order them based on public auction records movement for the past 2 years.
Number 1 – Ai Weiwei 艾未未 (1957)
Auction Record (2015): US$4,727,100
Ai Weiwei is an artist and sculptor from Beijing. He became part of a group of artists called Stars, which refused to create artwork that followed government guidelines. The first unofficial exhibition of this group took place by a fence by the Beijing National Gallery and attracted international attention.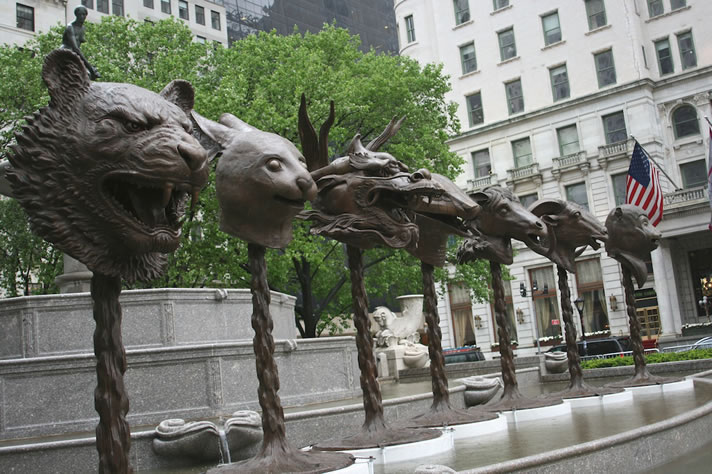 From 1981 to 1993, Ai Weiwei lived in the United States. During this time he focused on Performance and Conceptual Art, and graduated from the Parsons School of Design. In 2011, after returning to Beijing Ai Weiwei was listed as one of the top 100 of most influential people in the world by Time Magazine.
Having been provided his passport back from the Chinese government and the resulting media frenzy around that period, Ai Weiwei saw a huge +328% growth on his average sales price in auction vs. 2014.
Number 2 – Jia Aili 贾蔼力 (1979)
Auction Record (2015): $1,419,000
Jia Aili was born in 1979 in Liaoning provenance, China. Born in the era of open economy and increasing prosperity in China, Jia represents a young generation's worry for losing traditions and values in the fast evolving world and his work reflects the dramatic changes in Chinese society after the reform and opening policy. Using the strong traditional painting technique and Old-Masters-inspired paining style, he deftly combines the socio-economic development of china and its wider implications.

Born and raised as part of the sibling-less generation, Jia translates his artistic language to define the plight of the lonely generation, abandoned by the state's relentless pursuit for a technological progress.
Unlike many of the other artists on our list Jia Aili is still relatively young and didn't have a traceable auction sale until 2010. It is clear from his growth since that point, that he has substantial backing from a number of wealthy collectors.
Number 3 – Zeng Fanzhi 曾梵志 (1964)
Auction Record (2013): $20,640,000
Zeng Fanzhi studied oil painting at the Hubei Academy of Fine Arts, where he was strongly influenced by German Expressionism, which is evident in many of his works. His work has been shown in museums and galleries around the world, and, in 2008, his Mask Series 1996 No.6 became the highest-grossing work by a Contemporary Asian artist to date before being eclipsed by The Last Supper (shown below) in 2013.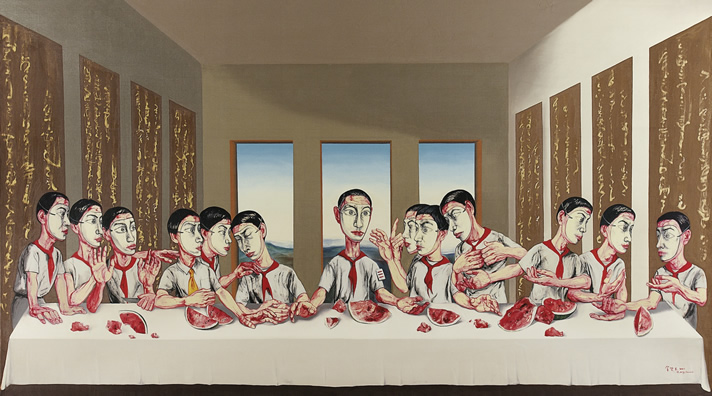 His auction sales prices have been consistently high since 2007, with a bump in 2013 as a result of the record $20m sale mentioned earlier.
Number 4 – Liu Ye 刘野 (1964)
Auction Record (2013): $4,773,000
Liu Ye is known for his bright-hued paintings of childlike female figures. His father was an author of children's books during the cultural revolution, and Liu Ye would often create illustrations for these books. He would also hide banned children's books in a black chest, including titles such as Hans Christian Andersen's fairy tales, tales by Alexander Pushkin, Anna Karenina, War and Peace, Journey to the West and The Water Margin. It is clear in his work that the illustrations in these books influenced his work significantly.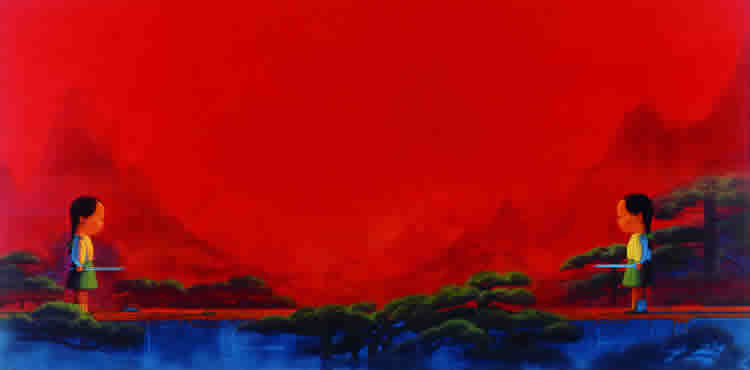 Liu Ye has had a rather roller coaster ride in terms of his average auction sales price since 2006, largely due to a number of high individual sales in 2010 and 2013, including Sword as pictured above.
Number 5 – Yu Youhan 余友涵 (1943)
Auction Record (2011): $1,543,200
Yu Youhan was born in Shanghai in 1943 and graduated from the Central Academy of Art & Design, Beijing in 1970. Yu then went on to teach at the Shanghai Institute of Industrial Arts from 1973. After visiting an exhibition by Zao Wou-ki in Hangzhou he began to paint abstract works during the 1980s, but shifted away from this during the 1990s painting a series of bright, Andy Warhol styled images of Mao Zedong, which garnered international acclaim.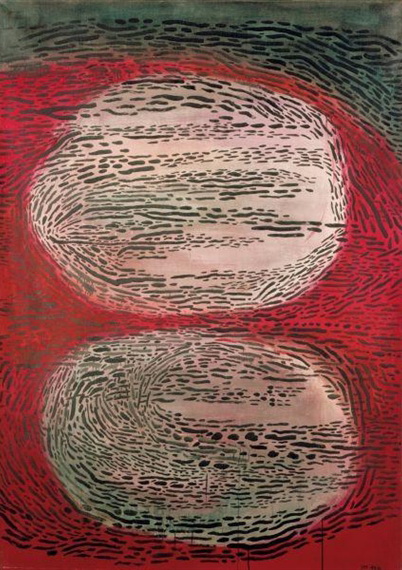 Since the early 2000's Yu has returned to abstract paintings, exploring more traditional Chinese landscape painting whilst applying his own innovative style.
Yu Youhan has seen steady market growth since 2006, and his average sales prices in auction have been stable in 2014 and 15 at over $300,000 USD.
Number 6 – Ai Xuan 艾軒 (1947)
Auction Record (2010): $2,778,700
Ai Xuan was born in 1947 in Hebei province. He is the son of the prominent political poet Ai Qing and half-brother of renown artist Ai Weiwei. He graduated from Central Academy of Fine Arts in 1976. During the cultural revolution, Ai Xuan was sent by the government to work as hard labour in a Tibetan military farm from 1969 – 1973.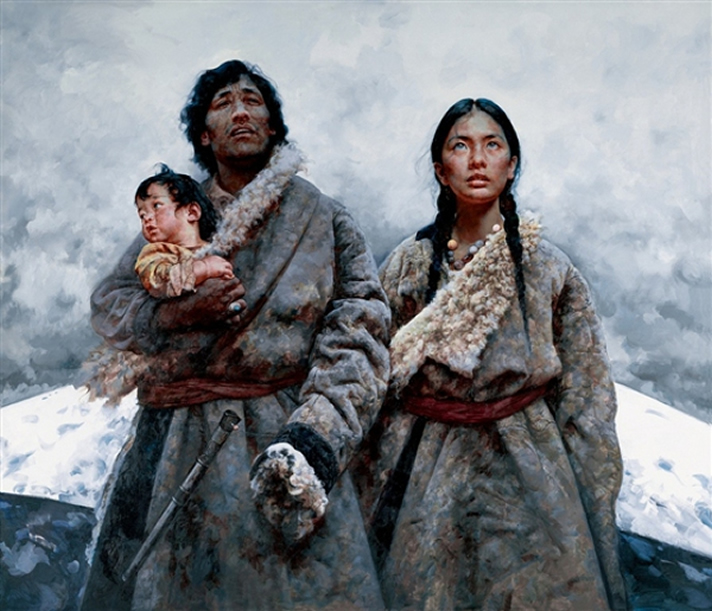 The early life experience provided him with the subject matter for his best known finely rendered Tibetan series, often described as using scenery to express emotions. Ai Xuan has been immersed in realist paintings in the past three decades. His work is rich in symbolism, he focuses on the natural environment and human relationships, Ai Xuan devoted his life in creating fantasies that have proved popular with the mainland elite.
Ai Xuan saw a large jump in 2010 and he has maintained a very  steady sales price.
Number 7 – Chen Danqing 陈丹青/陳丹青 (1953)
Auction Record (2011): $3,090,000
Chen Danqing is a Chinese/American artist, writer, and art critic born in Shanghai and graduated from the Central Academy of Fine Arts. He is now a US citizen having moved there in the 1980s. He is known mainly for his Realist paintings, which he created shortly after China's opening in the late 1970s and early 1980s. His most widely acclaimed work features portraits of Tibetans. It was Going to Town No.3 of his Tibetan series of work which holds his current auction record of $3m.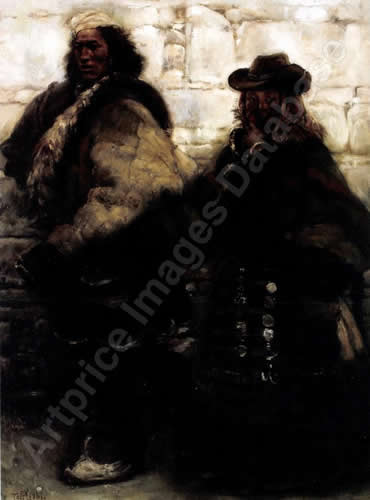 Chen Danqing enjoyed 2 record sales during 2011 and 2012 bumping up his overall average during this period.
Number 8 – Fang Lijun 方力钧 (1963)
Auction Record (2014): $6,697,600
Fang Lijun is a painter and printmaker associated with the Cynical Realist movement, and is best known for his realistic paintings that criticize contemporary cultural values in China. He incorporates imagery from pop culture, folk art, and traditional Chinese painting, and his work often features bald, aggressive-looking figures such as Series 2 No 4 as shown below, which currently holds his auction record at $6.7m.
Fang Lijun's auction sales price have great commercial success and increased steadily. The next 2 years will continue to be so.
Number 9 – Xu Bing 徐冰 (1955)
Auction Record (2015): $1,639,000
Xu Bing was born in Chongqing, but grew up mainly in Beijing. He began his studies in the printmaking department at the renowned Central Academy of Fine Arts in 1977. After earning a BA in 1981 and an MFA in 1987 he went onto produce one of his best known works, Book from the Sky (1987–1991), which earned Xu Bing international recognition in the 1980s. The work is a massive installation made up of hundreds of volumes and scrolls printed with 4,000 imagined Chinese characters, which were cut by hand into wood printing blocks. This same style is evident in his auction record work titled The Living Word, which sold for $1.6m in 2015.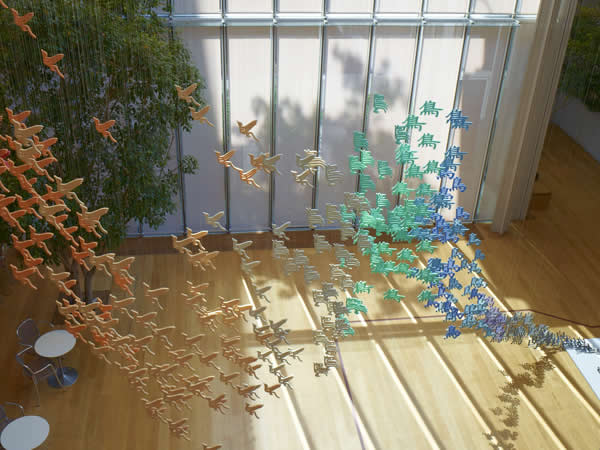 Xu Bing has enjoyed good auction sales growth since 2013, enjoying record individual sales in each of 2013, 2014, and 2015.
Number 10 – He Duoling 何多苓 (1948)
Auction Record (2014): $1,419,000
He Duoling is widely regarded as one of China's greatest living masters of realism. He resides in Chengdu, where he was born in 1948 and earned his art degree from the local teacher's college in 1977. He went on to study painting at Chongqing's Sichuan Fine Arts Institute in the late 1970s, and with a number of his colleagues in the early 1980s, founded China's infamous "Scar Art" movement.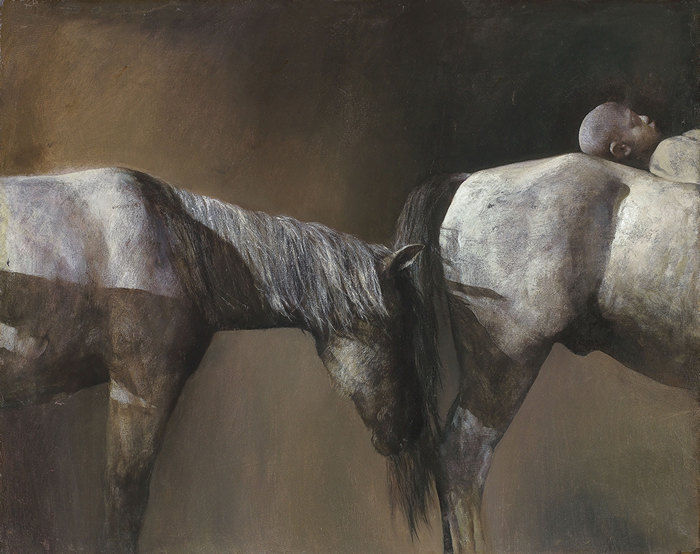 He Duoling has enjoyed good success in auction with a very stable average sales price since 2010.
Number 11 – Mao Xuhui 毛旭辉 (1956)
Auction Record (2010): $1,288,999
Mao Xuhui, was one of the leaders of the idealistic Southwest Art Group during the 1980's. He currently lives in Kunming, China and teaches at Yunnan University. He graduated from the Oil Painting Department at the Yunnan Academy of Fine Arts in 1982. Mao Xuhui, along with Zhang Xiaogang, Hou Wenyi, Zhang Long, Pan Dehai, and others, organised one of the first self-funded exhibitions in China, titled the 'New Concrete Image' (Shanghai, 1985).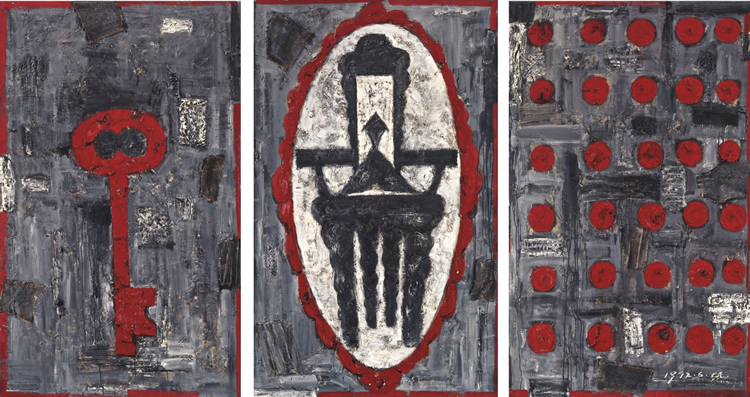 Mao Xuhui jumped into our top 20 list for the first time, thanks to an extremely strong 2015 that saw his average sales price rise by over 130%.
Number 12 – Zhou Chunya 周春芽 (1955)
Auction Record (2011): $4,176,399
Zhou Chunya studied at the Sichuan Academy of Fine Arts, which educated students in creating art that would serve as political propaganda during the Cultural Revolution. He is arguably most well known for his green dog series, which began painting in the 1990s, but it was his time painting nomads in Tibet that produced his current auction record of $4.1m for sheepshearing, which he painted in 1981.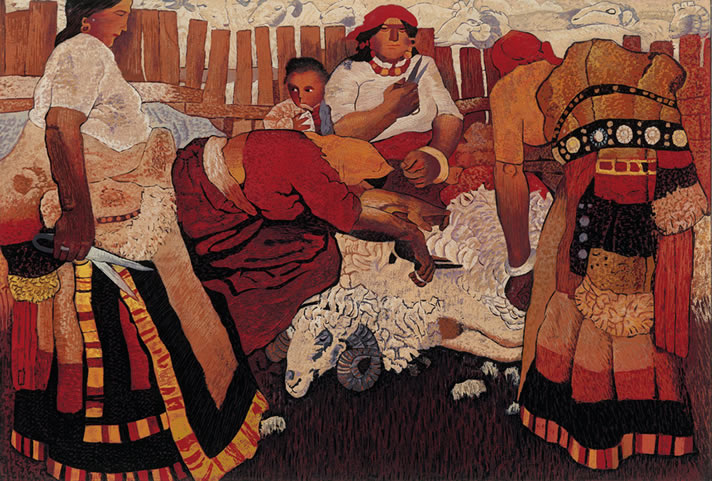 Zhou Chunya has seen exceptionally strong and steady growth in his average sales price via auction since 2010, with huge singular sales occurring in each of 2011, 12 and 13.
Number 13 – Zhang Xiaogang 张小刚 (1958)
Auction Record (2014): $10,698,699
Zhang Xiaogang was born in Kunming, in southern China's Yunnan Province, and grew up during the Cultural Revolution under Mao Zedong. Whilst his parents were forced into study camps while he was a boy, Zhang Xiaogang was sent to a reeducation camp to perform hard labor as a young adult; these experiences directly impacted his art later in life.
He is most famous for his Bloodline series inspired by old family photos, depicting family members in rather stiff, portraits with an almost ghostlike appearance. It was Big Family No 3 from the Bloodline series that currently holds the auction record for Zhang Xiaogang at $10.7m (shown below).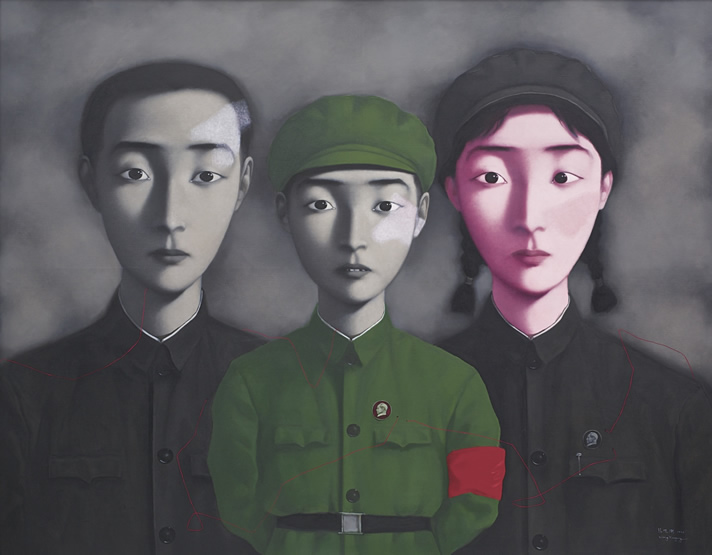 Zhang Xiaogang has been hot property since around 2005, but his prices really started to rise from 2006 when his average sales price went up to nearly USD$500k for per piece. Zhang has enjoyed regular auction record sales over the years – in 2008, 2011, and 2014.
Number 14 – Luo Zhongli 罗中立 (1948)
Auction Record (2014): $6,159,800
Luo Zhongli was born in Chongqing and is considered one of China's foremost realist painters. He graduated with a degree in Oil Painting from the Sichuan Fine Arts Institute in 1982, and continued on to earn an MFA in Oil Painting from the Royal Academy of Fine Arts in Antwerp, Belgium in 1986. He is most commonly known for his portraits of the people of southwestern China.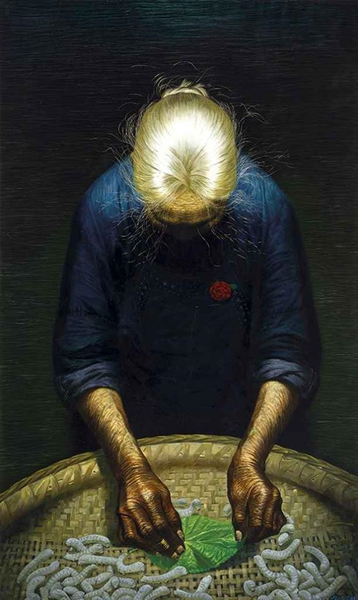 Luo Zhongli has enjoyed steady growth since 2006 with particularly strong success in 2013 and 14 primarily driven by two exceptionally strong sales of $5.5m and $6m respectively.
Number 15 – Zhan Wang 展望 (1962)
Auction Record (2014): $2,709,000
Zhan Wang is a Chinese sculptor born in Beijing in 1962. He studied at the Beijing Industrial Arts College in 1978 with his teacher at the time specializing in the Soviet style of sculpting before moving on to the prestigious Central Academy of Fine Arts (CAFA) in 1983 where he continued his sculpting education. After graduation Zhan became involved in modern sculptors, and famously climbed everest in 2004 to place one of his sculptures at the summit.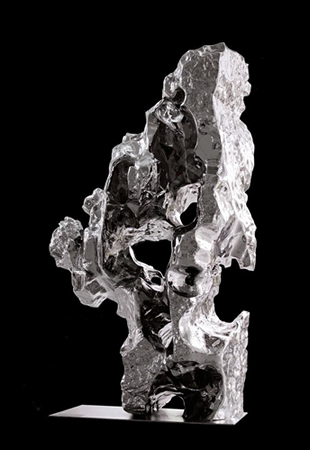 Zhan Wang has enjoyed relatively stable sales performance via auction, with his peak coming in 2014 thanks to the sale of Artificial Rock 59, beating his previous record auction sale by roughly $2m.
Number 16 – Wang Guangyi 王广义 (1957)
Auction Record (2007): $3,657,060
Wang Guangyi was born in Harbin and graduated from the Zhejiang Academy of Fine Arts in 1984. He grew up in an environment saturated with the propagandistic imagery of the Maoist regime in China. His work draws upon rebellious and revolutionary motifs from Cultural Revolution-era posters, brochures, and other materials.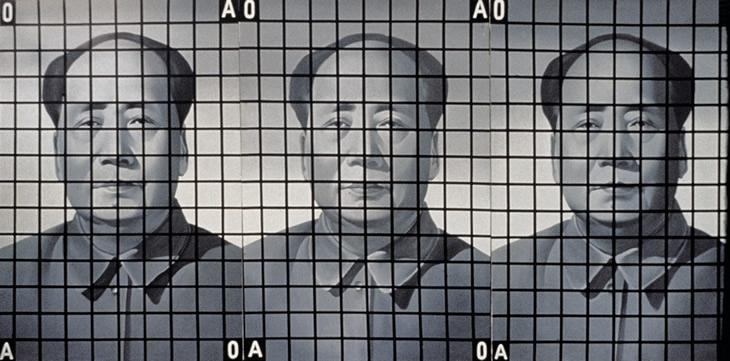 He often incorporates consumer brands into his work, including brands such as Google and Coca-Cola.
Wang Guangyi has various peaks due to higher than normal sales in 2007, 2011 and 2014.
Number 17 – Li Shan 李山 (1942)
Auction Record (2009): $3,076,500
Li Shan is a painter and prominent figure in the Political Pop movement that developed in China in the 1990s. His most famous series of paintings, entitled Rouge, started in the late 1980s, depicting stylized figures, abstract flowers, and portraits of Mao Zedong reminiscent of Andy Warhol's screenprints of the same subject. It was his work 'Reading' however which currently holds his record auction sale at $3m.

Li Shan has a stable auction sales record since 2006 with a couple of peaks in 2009 and 2014 off the back of high individual sales of $3m and $1.2m respectively.
Number 18 – Yue Minjun 岳敏君 (1962)
Auction Record (2008): $6,153,600
Yue Minjun was born in the Heilongjian Province. He worked in the oil industry until the events of the 1989 Tiananmen Square uprising encouraged him to join an artists' colony outside of Beijing. He is most famous for self depictions featuring a laughing man. Yue's laughing self-portraits often contain surrealist imagery or references to famous paintings; his Tiananmen Square-inspired Execution was the highest grossing work of Chinese contemporary art in 2007.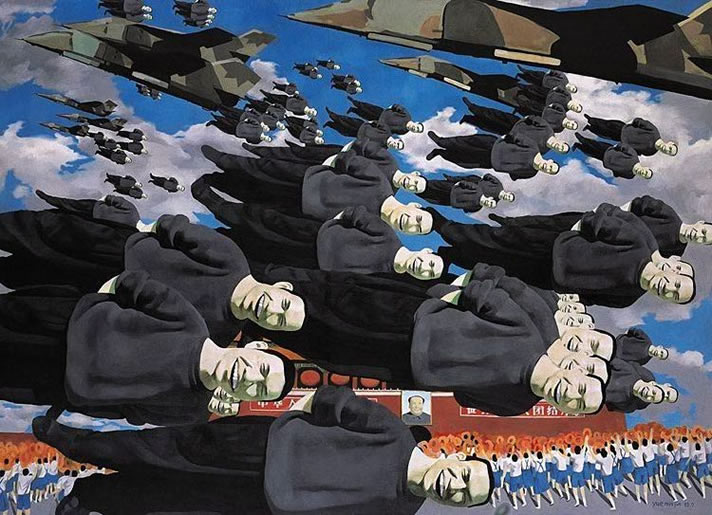 Yue Minjun has consistently seen singular sales well in excess of $1m.
Number 19 – Ye Yongqing 叶永青 (1958)
Auction Record (2011): $901,320
Ye Yongqing was born in a remote part of China's Yunnan province, and is one of the first generation of Chinese artists to be exposed to western art. In 1978, he became part of the 2nd class after the Cultural Revolution to be admitted to the Sichuan Fine Arts Institute, later becoming a professor there. During his time studying, he took great inspiration from western artists such as Henri Matisse and Paul Gauguin.
Over the years he experimented with many different mediums and techniques, and was also inspired greatly by his natural surroundings, which is evident in many of his works.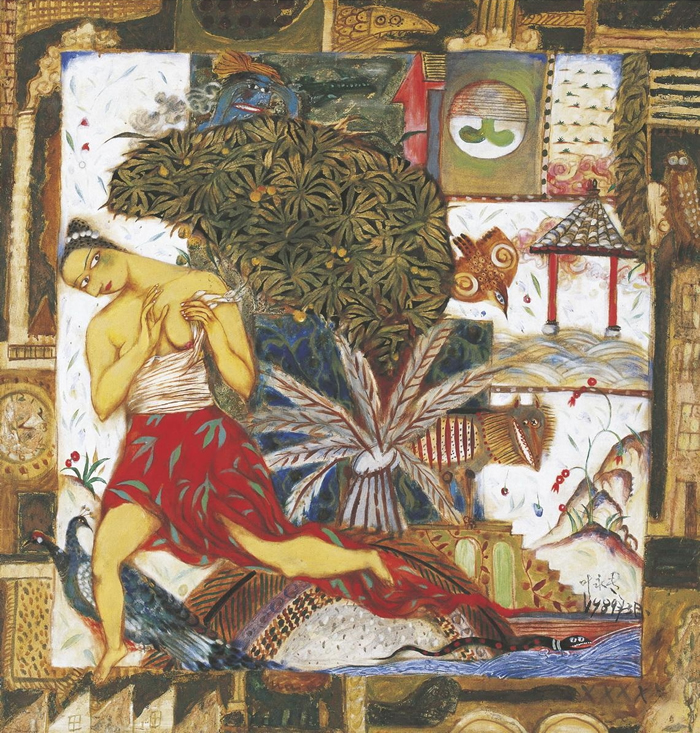 As one of the established artists off the back of the cultural revolution, Ye Yongqing like many of those above him, has enjoyed commercial success with average sales well in excess of $80,000 over the last 10 years.
Number 20 – Li Jin 李津 (1958)
Auction Record (2015): $813,857
Li Jin is generally associated with the 'New Literati School' of ink painting and a leading figure in contemporary ink painting, which commenced in the 1980s with a desire to reignite traditional forms of ink painting in China. Li Jin follows similar ink painting techniques, but has drastically altered the traditional subject matter, primarily with a focus on scenes depicting food and parties.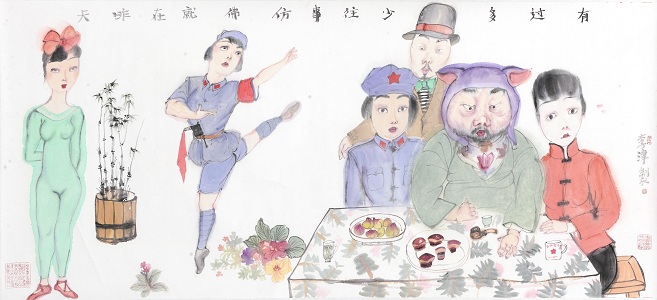 Li Jin has seen his stock rise significant in recent years as collectors have taken to this resignation of old ink painting techniques with a contemporary slant. 2013 and 2014 were particularly strong years.