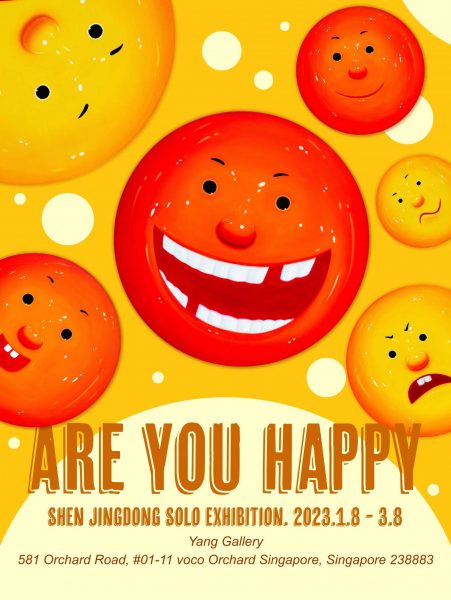 Title
ARE YOU HAPPY
Artist
沈敬东 Shen Jingdong
Period
8 Jan 2023 – 8 Mar 2023
Venue
Yang Gallery
581 Orchard Road, #01-11 voco Orchard Singapore
Foreword
Happy New Year! I have been long acquainted with Singapore as I am friends with Yang Gallery for many years. Through Yang Gallery, my works have been collected by many art collectors. I whole-heartedly thank you all.
Yang Gallery has witnessed the new development of Chinese contemporary art in the new century, as well as witnessing the progress and development of my works little by little in the past twenty years.
Since the 1990s, I have been engaged in the creation and practice of contemporary art. It first started when I was engaged in stage art in the military art troupe. At the same time, I started my contemporary art journey. I came to Beijing in 2004 and became a professional artist. I have held solo exhibitions in many places, and also participated in many joint exhibitions, large and small.
My works convey the true feelings of my life my experiences growing up, social background and the world I live in. I hope my works can give viewers a unique feeling and bring a smile to everyone in this turbulent world. After more than 30 years of hard work, my works have been loved by many people, for which I am truly honored and grateful.
This exhibition artworks is jointly selected by me and Yang Gallery. It is represents works of each period, including some old classic works and new attempts in the past two or three years, including oil paintings, acrylics, and prints. As well as sculptures and art derivatives, I sincerely hope you enjoy them.
Overcoming the 3 pandemic years, mankind has experienced hardships. I wish for my artwork to ease your pain and bring a smile to your face. "ARE YOU HAPPY" is the theme of this exhibition, through this I desire that the art I poured my soul into brings you as much joy.
I wish you happiness and a happy new year.
Shen Jingdong
December 2022