Dear friends,
You are cordially invited to 'Raffles, Pineapples & the Swamp' live art performance opening cocktail.
Time: 8th August 2019, 6:30 – 9:30 pm
Venue: Yang Gallery • Singapore, 581 Orchard Road, The Shopping Gallery Hilton #01-11, Singapore 238883
We look forward to your presence to celebrate this bicentennial 200th anniversary of Sir Stamford Raffles' arrival in Singapore.
Prominent up & coming Singaporean art duo Ripple Root's upcoming show at Yang Gallery (Hilton Hotel) seeks to celebrate Singapore in a big way. They are the first local artists to mount a solo show with Yang Gallery opening August 8th, a day before National Day. Held in conjunction with The Singapore Bicentennial, the 200th anniversary of Sir Stamford Raffles' arrival on our shores, there cannot be a better reason to showcase the duo's take on local history and imagery.
The exhibition reminisces island plantations and untainted simpler times, along with subsequent industrial developments and the rise to modernity. Viewers will be transported from 'Swamp to Civillisation' through these chronological pieces. The mangrove swamp was afterall where it all began, birthing Ripple Root's first painting series titled 'Strong Currents Will Paddle' in 2015, the SG50 year. And as always, a classic nod to Peranakan and Batik forms.
Besides paintings, it will also be the first time Ripple Root will be taking found historic objects and repurposing them as art objects, breathing in them new life and contemporary vision.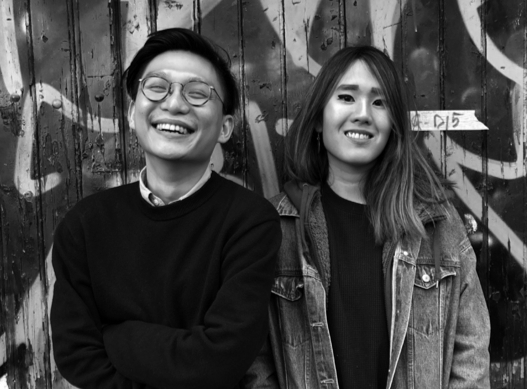 The duo is famous for creating works with Southeast Asian ornamentation, combining folkloric elements and interwoven patterns. What stands out from this collaboration is how Liquan and Estella work together to create beautiful works of art.
Ripple Root depicts scenes from both reality and the subconscious…while dealing with abstraction through bold colour, crazed strokes
and pattern. They sometimes swap works over and continue to add elements to each-other's work – this is what makes their art fresh, free and spontaneous. Liquan and Estella have a large portfolio of clients to take pride in, including Facebook, Peranakan Museum (Singapore), National Gallery Singapore, Park Hotel Group, Twitter, MUJI, and others.