Born on 1982, Quanzhou, China.
Looking at Chen Jinqing's works brings us back into our childhood, a period of serene and carefree happiness… Through his works we are able to embrace spirituality & solace, in search of a lost time….
Chen Jinqing's works have been collected by the Minsheng Art Museum and the Chongqing Art Museum as well as private collectors from all over the world. Children are most lovable. They are innocent, naive and pure. They are often the source of inspiration for an artist who is looking for subject that can arouse familiar correlation.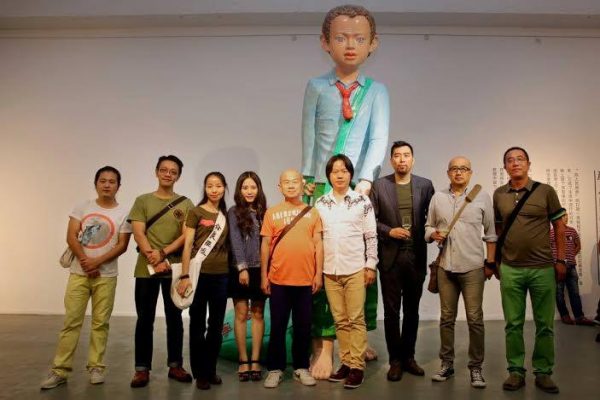 While common, Chen Jinqing has successfully explored the innermost fantasy of a child with his unique creation of children subjects. The subject is set with the background of lotus seeds and lotus pods nestling to form the various structures in the vast free sky of floating clouds. The combination of these elements is not only soothing in form and color, it has presented the essence of the culture from where the artist comes from. In the Chinese tradition, Lotus seeds symbolize continuity of generation. These lotus seeds, together with the traditionally dressed kids studying and playing, emphasize the passion of life. While the landscape is unbound and full of uncertainty, lotus pods symbolize the comfort of the motherland which constantly provides shelter and protection to these "Child Fairies". As a result, Chen Jinqing creates a "Castle in the Sky" that is heartwarming and captivating at the same time. Undoubtedly, his artworks will continue to put a smile on your face and even in your heart bringing back one's lost memory of a carefree childhood.
Solo Exhibitions
2013
"Poetry and Verity", 798 Times Space, Kuala Lumpur, Malaysia
"Everlasting Dream and Poetry", City Art Gallery, Kuala Lumpur, Malaysia
2012
"Sunny fingerprint" solo exhibition,Art ZAI, Beijing
2008
"In Search Of"`" Unique Space Gallery, Beijing
Group Exhibitions
2013
"To youth: Retrospect and Reconstruction — Chinese Contemporary Artists Exhibition", Manet Art Space, Beijing
"2013 The time restart" contemporary art exhibition, Chongli, China
Art Beijing, National Agricultural Exhibition Center, Beijing
Surge Art Beijing art festival, Beijing
2012
1st Art Sanya Festival, Hai Nan
DAXIU·Among the cities 2012 contemporary art group exhibition, DAXIU Museum, Dazhou,Sichuan
Art Expo Malaysia 2012, Contemporary art exhibition in China Pavilion, Malaysia
The republic of plato contemporary art exhibition, Manet Art Space, Beijing
China International Museum Art Products Expo 2012, Beijing International Conference Center
2012 Art Nova 100 Project, Beijing , Hong Kong, Ordos, Chengdu, Shenzhen
Colorful– Nova artists' exhibition, RAPHAEL'S LEGEND, Beijing
Athena encounter with Venus, sponsored by Asie Gallery and SECOO Club, Shanghai
The 5th 54 International Youth Art Festival No Limited, Enjoy Art Museum, Beijing
Art Revolution Taipei, Taiwan, China
A State Of Mind-International Contemporary Art Group Exhibition,Asie Gallery,Yuanjia Art Center,Hilton Hotel
Shanghai,China
2011
"Art Nova 100"Art Forward:A Survey Exhibition of Young Artists, Jinshang Museum, Taiyuan
"Art Nova 100"China circuit exhibition,Beijing, Shanghai, Guangzhou, Wuxi, Hongkong
"I CAN PAY" Art Festival, Shanghai
The 1st "Art Qingdao" contemporary sculpture exhibition, Qingdao, China
Changchun Vanke1948 contemporary art invitational exhibition, JUE gallery, Jilin, China
ART TAIPEI 2011, Taipei, China
Cross-boundary exhibition: JAGUAR and contemporary art, Beijing financial center
Shanghai Art Fair, Shanghai
ARTEMIDE sculpture invitation exhibition, Sanlitun Village, Beijing
Art Bank sculpture invitation exhibition, City Mall, Beijing
Qian Men No.23 invitation exhibition, Egg gallery, Beijing
2010
The 15th Guangzhou international art fair
The 7th China-Korean international exchange exhibition, Wuzhou, Guangxi, China
Yi Hao Di red Square art zone celebration of its 1st anniversary, Beijing
Art sense of modern sculpture, Tianjin
DA QING 1ST cultural industrial expo, DA Qing museum, Helongjiang
"Imagery & Trait" the 3rd contemporary art invitation exhibition, Beihang art gallery, Beijing
"Art is every where", Hakaren Art Gallery, Beijing,Singapore
"ZAI" Fine Art Exhibition, Jian(Paper), Beijing
2009
Art Singapore 2009, Singapore
"Jubilant October, dynamic water drop", Tianjin Olympic Center Stadium, Tianjin
Art Crossing East and West, Hakaren Art Gallery, Beijing, Singapore
"Dance" Grand MOMA Sculpture Exhibition, 798 Times Space, Beijing
A Journey to Chinese Contemporary Prints Exhibition, Yang Gallery, Beijing, Singapore
2008
"It's a small world", Hakaren Art Gallery, Singapore
"Rising – Aggressive artists invitational exhibition", 798 Times Space, Beijing
"Efforts Bring Success- contemporary art exhibition", 798 Times Space, Beijing
"Art· Contemporary" – Group shows of contemporary artists, Unique Space Gallery, Beijing
2006
International Arts and Crafts Fair "Sea & Music", Xiamen, China
2004
The 10th Fine arts exhibition, Xiamen, China
Excellent Price of the "Love flying over Taiwan Channel" Sculpture Competition , Xiamen, China
2003
Arts and Crafts Exhibition of Younglings, Xiamen, China
2002
The 1st Chongqing Sand Sculpture Competition, Chongqing, China
Works Yearbook of the Students from China Arts and Crafts College & Institute of higher education, Chongqing, China
The 7th Annual Students' Works Exhibition of Sichuan Academy of Fine Arts , Chongqing Museum, Chongqing, China