1958, Born in Kunming, Yunnan province
1982 Graduation form Sichuan Fine Arts Institute
Inspired by family photos from the Cultural
period, as well as the European tradition of surrealism, Zhang Xiaogang's paintings engage with the notion of identity within the Chinese culture of collectivism. Basing his work around the concept of 'family' –immediate, extended, and societal – Xiaogang's portraits depict an endless genealogy of imagined forebears and progenitors, each unnervingly similar and distinguished by minute difference.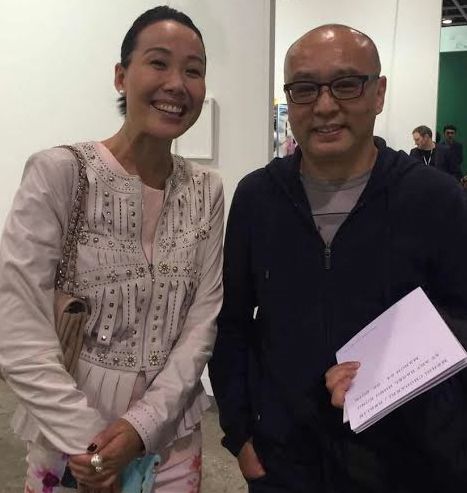 Beginning in the early 1980s, Zhang was an active member of the Southwest Artist Group, one of many regional artist groups that had sprung up around the country and asserted new doctrines and directions in art-making. The country was in the throes of a "culture fever" debate over the direction of the national culture and many artists participated in an effort to revitalize, re-evaluate and modernize Chinese culture. Zhang, alongside like-minded artists Ye Yongqing and Mao Xuhui, sought to create a new aesthetic that could capture the essence of the nation and its character, one that transcended the vagaries of history. Often painted in black and white, Xiaogang's portraits translate the language of photography into paint. Drawing from the generic quality of formal photo studio poses and grey scale palette, Xiaogang's figures are nameless and timeless: a series of individual histories represented within the strict confines of formula. The occasional splotches of color which interrupt his images create aberrant demarcations, reminiscent of birth marks, aged film, social stigma, or a lingering sense of the sitter's self assertion. Incorporating the aesthetic of traditional Chinese charcoal drawing, Xiaogang's style wavers between the exaggeration of animation and stoic flatness.
Muted and compliant, Xiaogang's extended family convey individual identity through their unalterable physical features: too big heads, tiny hands, long noses, and subtle alterations in hairstyle give clues to intimate characteristics and stifled emotions. These dream-like distortions give a complex psychological dimension to Xiaogang's work, heightening the tension of regulated claustrophobia, and initiating suggestive narrative readings. Through his expansive clan of replica characters, Xiaogang questions notions of otherness, difference, and perception
Solo Exhibitions
2009
"Record", Pace Beijing Gallery, Beijing, China
"Zhang Xiaogang: Shadows in the Soul", Queensland Art Gallery, Brisbane, Austrilia
2008
"Revision", PaceWildenstein, New York, U.S.A.
"Chinese Paiting: Zhang Xiaogang", Galerie Rudolfinum, Prague, Czech
2007
"Zhang Xiaogang", Sara Hilden Art Museum, Tampere, Finland
2006
"Home –Zhang Xiaogang", Beijing Commune, Beijing, China
"Zhang Xiaogang Exhibition", The Art Centre of Tokyo, Japan
"Amnesia and Memory", Artside Gallery, Souel, Korea
2005
"Zhang Xiaogang 2005", Max Protetch Gallery, New York, U.S.A.
2004
"Umbilical Cord of History: Paintings by Zhang Xiaogang", Hongkong Arts Centre, Hong Kong
2003
"Amnesia and Memory", Gallery of France, Paris, France
2000
"Zhang Xiaogang 2000", Max Protetch Gallery, New York, U.S.A.
1999
"Les Camarades", Gallery of France, Paris, France
1998
"Bloodline: The Big Family 1998", Hanart Gallery, Hong Kong
1997
"Bloodline: The Big Family 1997", Gallery of the Central Academy of Fine Arts, Beijing, China
1989
"Lost Dreams", Gallery of the Sichuan Academy of Fine Arts, Chongqing, China
Selected Group Exhibitions
2010
"Beijing-Havana – New Revolution art Contemporary Art ",National Art Museum of Cuba, Havana, Cuba
"Reshaping History – Chinart from 2000 to 2009″,China National Convention Center, Beijing, China
"Clouds – Power of Asian Contemporary Art", Soka Art Center, Beijing, China
"The Offical Opening of Minsheng Art Museum Thirsty Years of Chinese Contemporary Art", Minsheng Art Museum, Shanghai, China
2009
"19 Games-A Chinese Contemporary Art Exhibition", T Art Centre, Beijing, China
"A Gift to Marco Polo", Venice International University, Venice, Italy
"INAMANIA" , Arken Musuem, Copenhagen, Denmark
2008
"Case Studies of Artists in Art History and Art Criticism", SZ Art Center, Beijing, China
"Our Future: The Guy & Myriam Ullens Foundation Collection", Ullens Center for Contemporary Art, Beijing, China
"Avant-Garde China: Twenty Years of Chinese Contemporary Art", Roppongi, Minato-ku, Tokyo, Japan
"Waiting on the Wall: Chinese New Realism and Avant-Garde in Eighties and Nineties, Groningen Museum, Groningen, The Netherlands
"Facing the Reality: Chinese Contemporary Art", National Art Museum of China, Beijing, China