Artprice's price index calculation, based on the 'repeat sales method', shows a 5% increase in art prices. Against the backdrop of a banking sector operating in a negative or near-zero interest rate environment, art has become an excellent investment and this will no doubt add momentum to the expansion of the Art Market.

"We are seeing a tightening of the balance between supply and demand in the Art Market," explains thierry Ehrmann, Artprice's Founder/CEO.
Turnover in the USA (-20%), China (-12%) and the UK (-25%) has contracted
The number of lots sold between $10 and 100 million dropped by 41%
Top quality Modern (-21%) and Old Master (-38%) works in short supply
Claude Monet dominated the H1 2019 with 23 works sold for €251 million
Contemporary Art prices posted an increase of +40%
New record for a living artist: Jeff Koons' Rabbit (1986) fetched $91 million
Average annual return works out at +4.6% on an average holding of 13 years
The Artprice100© index posts a growth of +16% in H1 2019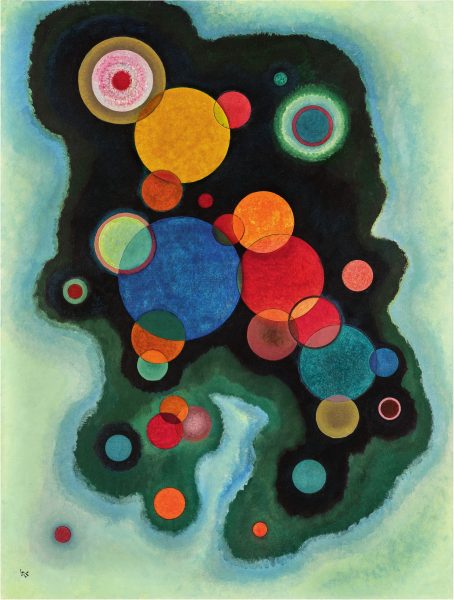 Supply contracts… and boosts prices
The art market's figures for the first half of 2019 reveal a paradox: sales volumes fell 17.4% while the overall price index rose 5%. In other words, the prices of artworks rose while the market contracted. However, the lower sales revenue was not attributable to a fall in the number of transactions, which remained almost perfectly stable; the contraction in turnover therefore essentially reflected the type and quality of the works offered during the semester.
The first half of 2018 received a major boost from the Rockefeller collection sales, the evening session of which generated $646 million from just 44 lots sold. By comparison, the most profitable sale during H1 of this year (in turnover terms) was Christie's Contemporary & Postwar Art session of 15 May 2019 in New York which generated $538 million from 58 lots sold.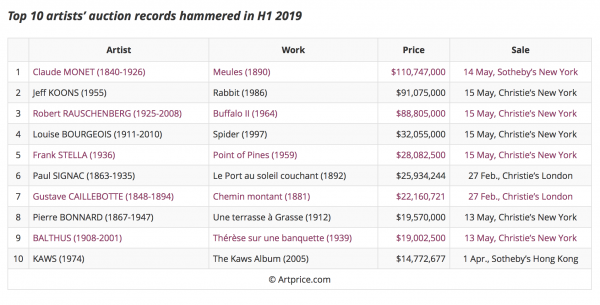 Throughout the first half of 2019, we have seen a relative dearth of Modern Art masterpieces which normally make up the heart of the high-end market.
Encouraged by a strong economic situation along with negative or close-to-zero refinancing rates, the demand for artworks has continued to grow, while the supply has contracted. Some collectors are clearly reluctant to sell works they believe are bound to increase in value in the coming years; especially as transaction costs remain particularly high, via both auction sales and galleries.
Works capable of fetching above $100 million are nowadays an essential part of the art market, but, being so rare, their annual or semi-annual contribution is somewhat fragile. In H1 2018, two works exceeded this threshold: Pablo Picasso's Fillette a la Corneille fleurie  (1905) and Nu couche (1917). The first was part of the legendary Rockefeller Collection, the dispersion of which was dubbed the "Sale of the Century". The second was sold to a single bid.
In H1 2019, the only artwork to reach the $100 million threshold was Claude Monet's Meules (1890)… and that new record was more-or-less expected given the steady progression of Claude Monet's prices. Nonetheless, in a long-term perspective, the value accretion of Meules (1890) is remarkable. The work has posted an average annual yield of +12% since its was last sold publicly in 1986, at Christie's in New York, rising from $2.5 million thirty-three years ago to $110.7 million this year.
The private sale – two days before its scheduled auction in Toulouse – of the Judith and Holofernes attributed to Caravaggio and estimated between $100 and $150 million, illustrates the fragility of the high-end art market. In statistical terms, the withdrawal of such an exceptional lot (13 days after bidder registration was formally closed) has left the French market with a much lower first half total.
The New "Classics" of Contemporary Art
So far this year Modern art – which has driven the high-end art market over the last twenty years – has played a relatively diminished role in the market and, at the half-way point, is posting a -22% turnover contraction. There were no major works by Pablo Picasso, Amedeo Modigliani or Alberto Giacometti on offer, each of whom has several results above the $100 million threshold (including buyer fees) to his name (accounting for 9 of the 16 hammered for works of Fine Art). Nevertheless, Modern Art remained the biggest segment of the art market in H1 2019.
In the absence of Modern masterpieces, demand turned to other signatures, other movements and other creative periods. In the early part of the year we saw particular interest in London for several major 19th century signatures.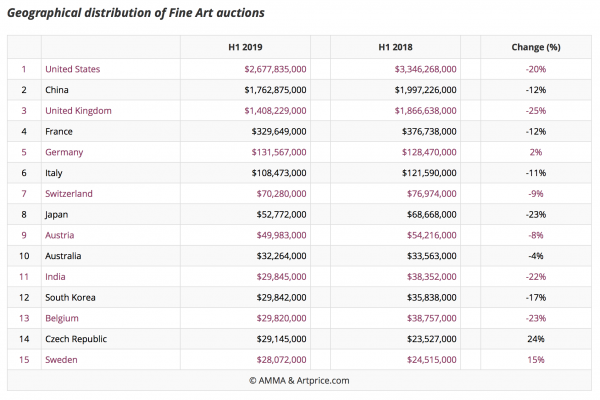 Nevertheless, the first half of 2019 was clearly dominated by Claude Monet. The year started badly when his Saule pleureur et basin aux nympheas. (Weeping Willow and Water Lily Pond) (1916-19) failed to sell at Christie's on 27 February in London against an estimate of $60 million. But as things turned out, this failure contributed to the balance between supply and demand, since of the 27 other Monet works offered in H1 2019, more than 85% found buyers, generating a total of  $251 million and making Claude Monet the world's best performing artist in H1 2019, ahead of Pablo Picasso and Zao Wou-Ki.
Even more surprising was a series of new auction records for Post-Impressionist artists, including Paul Signac, Gustave Caillebotte, Pierre Bonnard, proving that the best canvases of this period are still very much in demand. For his part, Paul Cézanne's auction performance was the best for 20 years, with his second best-ever result at $59.3 million. The value of Bouilloire et fruits (c.1888-90) doubled since its last appearance in 1999.
Moreover, the market seems to have elected some new "classics" among exceptional works produced by Post-War and Contemporary artists.
Jeff Koons' Rabbit (1986) was probably the most striking example of how the major auctioneers (in this case Christie's) succeed in elevating certain artworks, made in the second half of the 20th century, to the status of veritable  masterpieces. This 1-meter high stainless steel sculpture (from an edition of 3 plus an artist's proof) is the last one still in circulation. Number 2 of the 3 produced, it was exhibited by Christie's in an immaculate white room and presented as "a chance to own the controversy". Shortly after, it became the world's most expensive work by a living artist, having fetched the 20th best result ever recorded for a work of fine art in auction history.
Soft Power: the contraction benefits Hong Kong
In H1 2019, secondary market Fine Art turnover shrank in nearly all of the world's major marketplaces. Germany posted a stable figure… but it accounts for just 2% of global turnover. China, the United States, England, France and Italy are all facing roughly the same challenge: how to maintain the intensity of transactions in the high-end market.
Sotheby's and Christie's, which are present in each of these countries, have not yet decided to concentrate their best lots on their key markets… but that might become necessary. In the West, that would lead to an even greater domination of the market by New York and London, which could, in turn, be detrimental to Paris and Milan. Their London based Italian sales have already 'transferred' a significant share of the Italian market to England. In this context, the outcome of the Brexit deadlock is bound to have an impact.
Posting a 4% increase in turnover versus the same year-earlier period, the Hong Kong marketplace actually grew while all its global competitors contracted. Generating an auction total of $700 million in H1 2019, Hong Kong was looking stronger than ever… at least until the political tensions that erupted again in June. It is now Asia's leading art market hub, accounting for up to 40% of the Chinese art market. Its growth has essentially been driven by Contemporary Art sales which posted a 56% increase in turnover, taking the city a good step further towards competing directly with London and New York… even with respect to new stars in the Western art market.
This was the case on 1 April for the American street artist Kaws, whose painting The Kaws album (2005) generated a truly spectacular result at Sotheby's Hong Kong by fetching $14.8 million, no less than 15 times its high estimate. Kaws prices have been growing exponentially over the last two years, especially since his market has attracted collectors from New York, London and Hong Kong.
The English sculptor Tony Cragg also reached a new and quite unexpected auction record in Hong Kong. His stainless steel piece Untitled (2008) fetched close to $1 million on 27 May 2019 at Holly International. Founded in 1994 in Guangzhou, the Chinese auction house organized its first sales in Hong Kong in H1 2019. It joins the prestigious Chinese operators, Poly and China Guardian, as well as the Korean company, Seoul Auction. The latter hammered its best result of the first half in Hong Kong at $7.2 million for Le chant des sirènes (1953) by the Belgian Surrealist Rene Magritte.
At the same time, Hong Kong manages to attract the best of Chinese artistic creation. Zao Wou-Ki generated the best H1 result for the entire Asian continent in Hong Kong; 53% of Zhang Daqian's turnover was hammered there, and lots of new new Contemporary Chinese painters have received market exposure in the city. On 1 April 2019, we saw a new auction record for Hao Liang (1983) at Sotheby's in Hong Kong when his ink-on-silk paper entitled An Anecdote from the Grove (2011) was hammered down for $1.9 million.
Lastly, the strength of the Hong Kong marketplace has much to do with its domination of a vast international geographic region which allows it to capture the best works from the whole of Asia. H1 2019 was notable for the $6.8 million sale of Untitled (1971) by the Korean abstract painter Whan-Ki Kim on 26 May 2019 at Seoul Auction. Hong Kong also recorded significant new records for the ultra popular Japanese artist Yayoi Kusama, Yoshitomo Nara and the young Ayako Rokkaku at respectively $8 million, $4.4 million and $151,300.
Hong Kong now plays an essential role in Asia's art market offering not just the best of Chinese art, but also the best works from the rest of Asia. And it is now also a gateway to China for the Western art market.
Art's financial performance attracts investors
Based on 1,850 works previously acquired at auction and subsequently resold by the same channel during the first half of 2019, Artprice has calculated an annual yield of +4.6% for an average holding period of 13 years. Of the total number of works, 51% posted a price increase and 48% dropped in value (1% remained stable).
Meanwhile, the Artprice100© index rose +16% in the first half of 2019. A virtual portfolio consisting of the top 100 performers on the global auction market between 2014 and 2018, weighted for the relative magnitude of their turnover totals, this index outperformed the entire market notably thanks to exceptional results for Fu Baoshi and Wu Guanzhong in China, and for Robert Rauschenberg, Frank Stella and Martin Kippenberger in the West.
Our Contemporary Art price index climbed an impressive 40%. The auction performances of Jeff Koons, Peter Doig and Keith Haring gave the Contemporary  segment the strongest growth of all segments in H1 2019. Over the long term, the financial performance of Contemporary Art is on a par with that of the US stock market… and Sotheby's share price.
The most spectacular single-piece value increase in H1 2019 rewarded a sculpture from the series Pumpkin (1998) by Japanese artist Yayoi Kusama. Fetching $156,000 on 23 April 2019 at Phillips in New York, the piece, numbered 31/100, is a minor work by a major artist who has just recorded a new auction record at $8 million. But the seller acquired it 10 years ago at Christie's in London (2009) for just $5,800 … one twenty-sixth of its current value.
This operation corresponds to an average annual return of +39% over ten years. By comparison, Apple's share price (NASDAQ: AAPL) grew +26% per year over the same period, and the S&P 500 by +12% p.a.