Exhibition Title: Streetscape of Singapore
Artist: Zhu Hong
Period: 2020.1.16 – 2020.2.28
Venue: East Garden Gallery, The Fullerton Hotel Singapore
Organizer: Yang Gallery Singapore
About Artist :Zhu Hong 朱宏
Born in Dalian, China, Zhu Hong has been living in Singapore since 1997 and is currently a Singapore citizen. He holds a degree in Architecture, and had previously worked in interior design, architectural design and event design before turning to art full-time in 2011. At the moment, he also serves as an adjunct faculty lecturer at Ngee Ann Polytechnic where he teaches visual art to tertiary students enrolled in high-tech media studies. As an artist, Zhu Hong is actively involved in the local arts scene. Apart from being a member of the Singapore Watercolour Society, he also helps the committee for the Federation of Art Societies.
For Zhu Hong, painting offered an important source of mental and spiritual support, especially during his early years in Singapore. Alone and new in a foreign land, he would often spend his free time reading books in libraries or travelling around to explore the island.
In his watercolour art, Zhu Hong's understanding of, and passion for city life and architecture are expressed through the way he captures the spirit and essence of a building and its immediate surroundings. Adopting askew lines and unique angles, the instinctive and playful distortions of architectural elements in his cityscapes and street scenes exhibit a distinctive and contemporary flavour. The colours employed are usually vibrant and arresting, and they reflect keenly the lively tropical atmosphere of our island. By injecting an unconventional and localised twist into what is supposedly one of the most traditional and timeless mediums in the Western art world, Zhu Hong paints like no other, and his works inspire us to observe familiar scenes and objects with fresh eyes.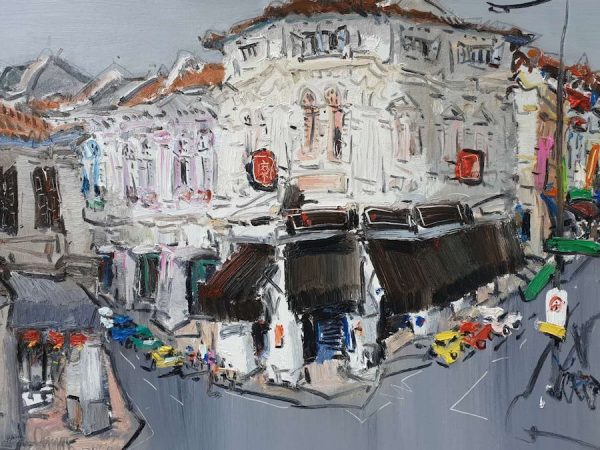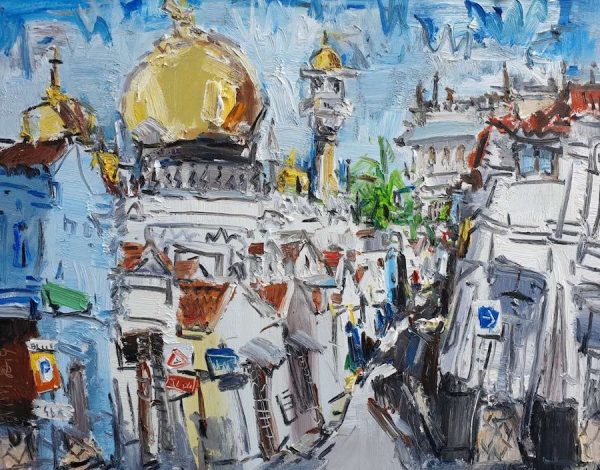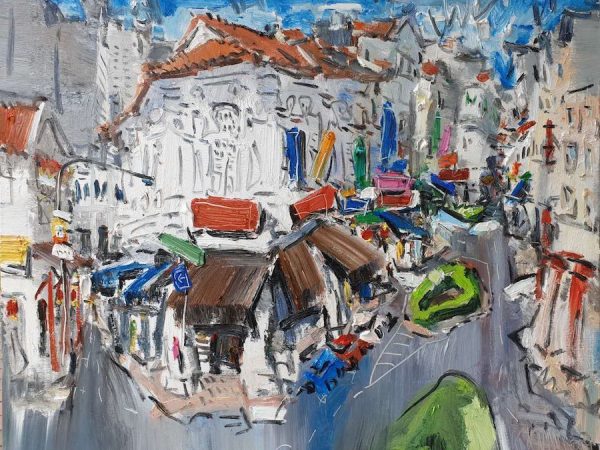 About The Fullerton Hotel Singapore
Gazetted as Singapore's 71st National Monument, The Fullerton Hotel Singapore was once home to the General Post Office, The Singapore Club and the Chamber of Commerce. It is a luxury hotel with 400 rooms and suites carefully designed to provide both business and leisure travellers with a sanctuary of serenity and comfort. Located in the heart of the financial and arts districts, the hotel blends rich heritage with contemporary style and personalised service to offer guests a world-class accommodation experience. Epicureans can enjoy a delectable array of dining selections. There are a total of five restaurants and bar in the hotel – Town Restaurant presents international and themed buffets and an extensive a la carte menu; Jade Restaurant serves elegant Cantonese cuisine; The Courtyard offers an Indian buffet, Japanese buffet and afternoon tea; and The Lighthouse Restaurant & Rooftop Bar serves up authentic Italian cuisine alongside breathtaking views of the bay. Post Bar, which features the original ceiling and pillars of the General Post Office, is a popular watering hole. Aside from the dining selections, guests can pamper themselves with indulgent treatments at The Fullerton Spa.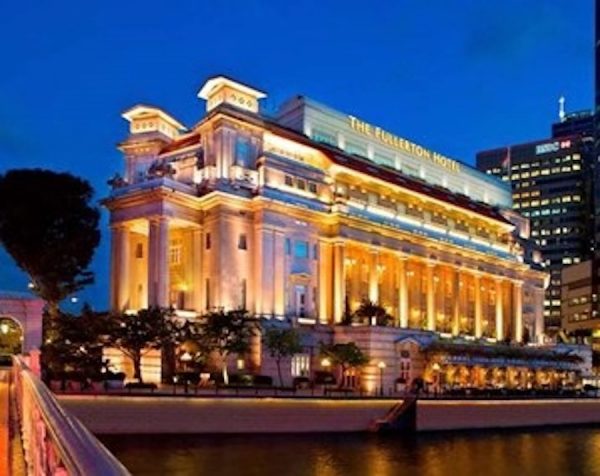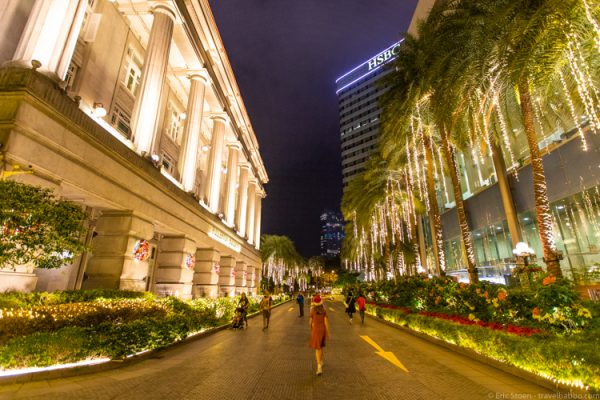 About Us : YANG GALLERY
Welcome to Yang Gallery one of the leading and most prestigious contemporary fine art galleries, where Art meets Fashion, Luxury, Investment & Beyond. Yang Gallery presents: Oil paintings, Sculptures, Ceramics, Watercolors, Photographs, Prints, Installations, Designer Furniture and Artistic Architectures etc.
Our Services
Yang Gallery was established in 2005, is one of the most prestigious & leading contemporary fine art galleries in Singapore & Beijing. We offer the perfect blend of art appreciation & market expertise to guide collectors to accurate choices with transparent, secure & profitable great potential towards their collecting interests. Our professional consultants have the most comprehensive art & market knowledge to provide high quality & ideal collections to organizations, contemporary art museums, luxury groups to private art collectors & investors worldwide. We look forward to welcome you to this most dramatic contemporary fine art market growth or any crossover collaboration opportunities with you from different industries.
Our Collectors & Clients
Luxury Organizations: LVMH Group, Richemont Group, Fondation Cartier pour l'Art Contemporain,Mercedes Benz Ltd Beijing, Porsche Ltd
Corporations: JP Morgan, City Developments Limited Singapore, LPS Luxury Properties, Far East Organization Singapore, Sovereign Group Hong Kong, Hotel Properties Limited Singapore.
Private Collectors: Giuseppe Eskenazi, Deddy Kusuma, Uli Sigg, Datuk Noor Azman Mohd Nurdin
Contemporary Museums: Denver Art Museum USA, Fukuoka Art Museum Japan, San Francisco Museum of Modern Art, Today Art Museum China, Knie Art Museum Switzerland
Academies: Royal Collage of Art United Kingdom, Central Academy of Fine Arts Beijing, Chengdu Academy of Fine ArtsSichuan, Lasalle Collage of the Arts Singapore, Nanyang Academy of Fine Arts Singapore
Our Team
Yang Gallery has the most passionate, innovative, united & professional experienced team to provide the most collectible and greatest investment potential wide variety of arts to collectors who are passionate about art from all over the world! It is our great pleasure to extend the most excellent services to welcome you into this exciting Contemporary Fine Art collecting
market!..
Payment Mode
Payment of purchases will be made through PayPal, Credit Card or Bank / Telegraphic Transfer worldwide. Cash is accepted within the galleries.
Shipping Services
We provide the most professional, reliable & excellent shipping services door-to-door worldwide!
Contact Us
The Shopping Gallery Hilton #01-11, 581 Orchard Road Singapore 238883
Tel:  +65 83891888 | +65 90067459 | spore@yanggallery.com.sg
www.yanggallery.com.sg