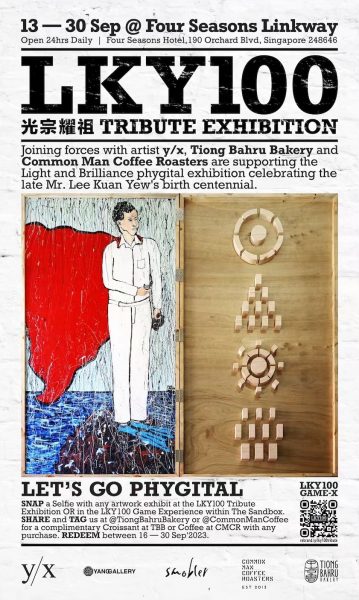 Exhibition Title
LKY 100 光宗耀祖 Tribute Exhibition
Artist
Y/X
Period
13 Sep – 30 Sep 2023
Venue
Yang Gallery Linkway Space
Four Seasons Linkway, 190 Orchard Road Singapore
Singaporean artist y/x (Chua Koon Beng), together with Smobler a leading metaverse architect headquartered in Singapore, will be launching Light and Brilliance (光宗耀祖) into The Sandbox, a leading decentralized gaming virtual world and a subsidiary of Animoca Brands. There will also be a physical exhibition that will be launched in IMDA Pixel Innovation Center as part of Smobler's NOVA festival held on 12 September. The exhibition will then head to Yang Gallery at Four Seasons and will run from 13 through 30 September.
y/x is a local self-taught artist who makes art through a process and approach of experimentation and materiality. y/x has exhibited in group and solo shows in Singapore since 2002. He is also CEO of Spa Esprit Group, one of Singapore's best known lifestyle companies.
y/x is a self-professed fan of the late founding father of Singapore, Lee Kuan Yew (李光耀) whose name literally translates into "light and brightness" and "to bring glory to one's ancestors".
Says y/x, "Lee Kuan Yew has not only brought glory to his ancestors but also to Singapore, shining the brightest of light over Singapore during his years as the country's leader and even posthumously. Singapore would definitely not be what it is today without Lee Kuan Yew."
The launch will be unveiled in a festive atmosphere at NOVA, a phygital experience curated and designed by Smobler to connect communities in the web3 and metaverse space as well as visitors who are attending TOKEN2049 and Formula 1 Singapore Grand Prix 2023.
Says Loretta Chen, Co-Founder and CEO of Smobler, "The idea to bring Lee Kuan Yew's legacy in a celebration of art, culture, uniquely Singaporean IPs like the world's only night race and digital technology in our garden city is what our late Prime Minister envisioned for our little red dot. I recall planting a tree with him as a young Girl Scout over three decades ago. I believe those seeds of progress were sown in me as it did in y/x as we now embark on co-creating a digital ecosystem to allow our youth and community to thrive in light and brilliance."
In celebration of the centennial, anyone who posts a selfie with any artwork taken at the LKY Tribute Exhibition in IMDA PIXEL, Yang Gallery at Four Seasons Linkway or in The Sandbox Game experience can redeem a free cup of coffee at Common Man Coffee Roasters or enjoy a free croissant at Tiong Bahru Bakery between 16 to 30 September with any purchase.
Video – About the Exhibition
Click below to download the exhibition details
Yang Gallery – YX – Light and Brilliance Exhibition Details