1969 – Born in Anxi, Quanzhou, Fujian Province, China
Chen Wenling, born in 1969 from Anxi China is recognized as one of the top ten contemporary sculptors in the international art industry. Known for his provoking and interesting twist in his sculptural works, Chen Wenling shot to artistic fame with his 'Red Memory' series, showcasing the playful naked boys covered in shiny red paint. He completed his study in the Sculpture Department at Central Academy of Fine Arts in Beijing and started working as a professional artist ever since.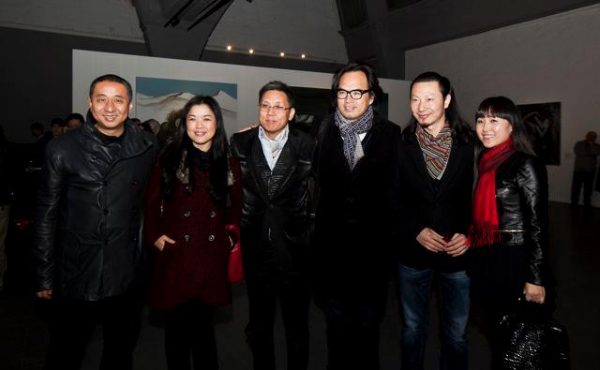 His works are modest and earthy and there is often a clear connection between the man and nature dialogue depicted in his sculptures. We can notably see the dramatic and moving sculptures, captured in action whenever we come across Chen Wenling's works. Chen Wenling never fails to bring a whimsy and playfulness tone to sculpture while at the same time, maintaining his stance as a sophisticated artist inhis own unique figurative style.Chen Wenling's works have marked many places in the world where he exhibited in the First China Art Triennial at Guangzhou Art Museum in China (2002), Chinese Sculpture Masterpieces Exhibition of the Beijing International Biennale in China (2003), China- Belgium Contemporary Sculpture Exhibition at Antwerp in Belgium (2004), Grounding Reality: Chinese Contemporary Art Exhibition in Korea (2005) and 37th Art Exposition in Basel of Switzerland (2006). In 1999, Chen Wenling received the Venice Biennial International Prize of the Golden Lion in Italy and not long after, he received the Alpert Award in the Arts in the United States. In 2005, he received the award for best installation in the Museum for Inopportune in France. After his impressive display of the Red Memory series in both Cottesloe and Bondi Beach in Australia, Chen Wenling has been recently invited to return to exhibit in Denmark in 2013 due the well received demand in 2011 exhibition.
Exhibitions:
2008 – "China:Facing Reality", National Art Museum of China, Beijing, China
2008 -"Beijing-Athens Contemporary Art From China", Technopolis of the City of Athens, Greece
2007 -"Metamorphose" Chen Wen Ling Exhibition, Makii Masaru Fine Arts, Japan
2007 – "My Chinese Friends", Gallery Susanne Ottesen, Copenhagen, Denmark
2007 – "The Power of Universt" 798 Asian Art Center, Beijing, China
2007 – "Floating: New Generation of Art in China", The National Art Museum of Korea, Seoul, Korea
2006 – "Red Memory" Chen Wen Ling's Solo Exhibition, Ode to Art, Singapore
2006 – "Made in China", Padova, Italy
2006 – "In theName of Material" Exhibition of Contemporary Art of Sculpture, HSS Art Centre Shanghai, China
2006 – 37th Art Exposition in Basel of Switzerland, Basel, Switzerland
2006 – "Hyperdesign" Shanghai Biennale, Shanghai Art Museum, Shanghai, China
2006 – "Chinese Art Today", National Art Museum of China, Beijing, China
2005 – "Ground Reality" Chinese Contemporary Art Exhibition, Seoul, Korea
2005 – "Time of Sea" International Contemprary Art Exhibition, Shanghai, China
2004 – Solo Exhibition: "Happy Life", Chinese European Art Centre, Xiamen, China
2003 – Chinese Sculpture Masterpieces Exhibition of Beijing International Biennale Beijing,China
2002 – 21st China Art Triennial, Guangzhou Art Museum, Guangdong, China
2001 – Sculpture Show, Shanghai Young Artists Exhibition, Normal University of Shanghai, China
1991 – Chen Wen Ling's Woodcarving Exhibition Xiamen College of Art, Xiamen, China