Born in 1972. A sculpture artist whose powerful work has gained him international recognition, Cai Zhisong, a graduate of Beijing's Central Academy of Fine Art, was the first Chinese artist to win the prestigious Taylor prize at the Paris Autumn Salon in Eiffel-Branly. Established in 1903, many of the world's most famous artists have participated in the Autumn Salon, including Gauguin, Cezanne, Matisse, Renoir, Bonnard and Rodin. The Autumn Salon opens every year, comprising of painting, sculpture, architecture and photography. Named after Baron Taylor, only one distinguished artist receives the Taylor Prize every year.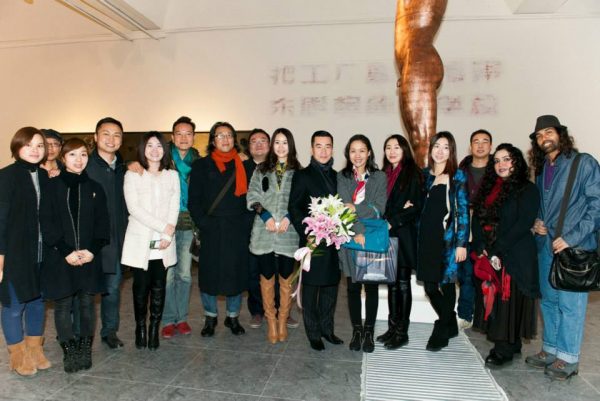 Created with great technical skill and inventiveness, Cai Zhisong's impressive sculptures derive their inspiration from the sculptures of the Qin (221-206 B.C.) and Han Dynasties (206/202 B.C. – 220). Taking empirical figures, servants and warriors as his models, he uses modern techniques and materials to transform historically endowed entities into an entirely new significance and actuality. Out of glass-fiber reinforced resin and thin sheets of metal Cai Zhisong creates figures that capture the viewer's imagination and achieve a timeless beauty. Intricate surface detail, such as the figures' ornate hairstyles created out of thin wires, contrast with the simple, clear shapes and poses of his sculptures. Although impressive in size, the use of high tech material makes the figures seem amazingly light.
Cai Zhisong's latest series of works -"Motherland"- not only shows his fascination with ancient Chinese culture but also addresses the dangers and consequences of cultural erosion in the face of today's increasing Globalization. An attempt to counteract this development, his artwork attempts to establish an indigenous form of contemporary art. Central to his work lies the belief that art should be pluralistic, while the modern art world – despite its seeming diversity – harbors the danger of uniformity. Cai Zhisong observes the already existent centralization and economic strength of western civilizations driving many marginalized regional cultures to the periphery of society to become culture reservations or tourist attractions.
Although derived from ancient sources, the expressive poses do not possess much in common with the static, solemn sculpture-works of former periods of Chinese art. Carefully balanced between movement and stillness they create a tension, which engages the viewer's imagination. Furthermore, Cai Zhisong's use of material gives his sculptures a modern feel. Choosing from a wide range of different materials available today from traditional to high tech, he develops a distinctive style, in which thin sheets of metal are applied to a skeleton of reinforced glass-fiber resin, sometimes overlaying the metal sheets further with other materials. Rather than building a smooth surface, the many small sheets overlay each other creating a patchwork pattern, which, although barely visible, is one of the distinct characteristics of Cai Zhisong's style.
The often deferring, subservient poses of Cai Zhisong's figures seem to mourn the loss of history and cultural identity of the present age. However they also convey more general ideas about the hardships of life, evoking feelings that every viewer can relate to.