Art Meets Investment in 2020
Art investment is one of the three most profitable key investment areas in the world (finance, real estate, art investment). Because of its high rate of return and asset transfer flexibility, it has risen to become the hottest pursuit of investment and this has become the consensus of investors globally.
Artworks from renowned artists are now considered investment class assets alongside gold, stocks and equities. Investing in fine pieces of arts can give you a return of 10% or more annually. A survey done found that the art market was worth 67 billion dollars and growing. Savvy investors and ultra-rich individuals are now buying art in order to store value and protect themselves from the volatility of the stock markets.
Contrary to fears across the industry in the beginning of the pandemic, buyers appear to have remained active. The report found that 59 percent of the collectors surveyed said the pandemic had increased their collecting interest; 70 percent of millennial collectors said they felt more inclined to buy art online now.

Art Investment Review
Yang Gallery has been pioneering Investment in Contemporary Fine Art since 2008. The first ever Contemporary Fine Art Investment conference in Singapore was held at St Regis featuring world-renowned Chinese artist, Fang Lijun with Channel NewsAsia as the official media and supported by Fortis. It was attended by VIPs, Corporations, Art Collectors & Established Art Critics. The successful event was a great introduction and in-depth insight on art investment and was widely well-received by the attendees.
In this unprecedented pandemic in 2020, the world has experienced market volatility. However, it has thus proven that art is one of the greatest alternative investments with successful online & auction sales, with Gerhard Richter works sold for US$27.7 million at Sotheby's "Contemporary Art" sale in October 2020 in Hong Kong.

How to invest in art ?
Start by deciding how much money you're prepared to spend. It should be an amount you can afford to part with in case the artwork depreciates. Don't forget to factor in possible storage and maintenance costs.
Then learn as much about the art world as you can. Visit galleries and see what they have to offer; chat with gallery owner or art curators, who will usually be eager to answer any of your questions.
If you live in or near a city, you should go to join some art exhibition openings and art fairs, where up coming & established artists tend to showcase their pieces. Original painting & sculpture now available for you to purchase , WhatsApp our art specialist 📞+ 65 83891888 / or call 67218888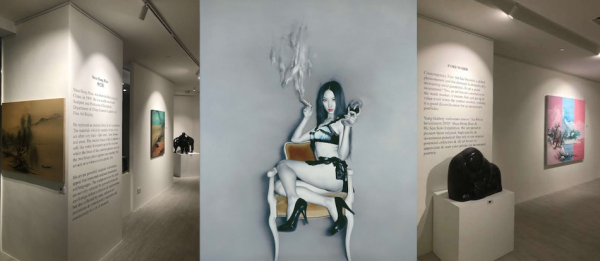 He Sen & Shen Hongbiao Solo Exhibition 2020
Yang Gallery welcomes you to 'Art Meets Investment 2020' He Sen & Shen Hongbiao Solo Exhibition from 1st – 28th November 2020. Featuring a rtworks that evokes a sense of musicality through contemporary landscape paintings and powerful, majestic sculptures with artistic appeal that transcends national barriers and languages. Great works to add to the art collection & investment portfolio.
For Further He Sen Info
For Further Shen Hongbiao Info